01.03.2012 | Original Article | Ausgabe 3/2012 Open Access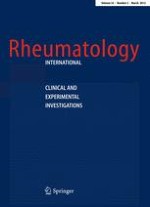 Serum concentration of interleukin 15, interleukin 2 receptor and TNF receptor in patients with polymyositis and dermatomyositis: correlation to disease activity
Zeitschrift:
Autoren:

Pawel Mielnik, Hanna Chwalinska-Sadowska, Ewa Wiesik-Szewczyk, Wlodzimierz Maslinski, Marzena Olesinska
Abstract
Cytokines are implied in polymyositis/dermatomyositis (PM/DM) pathogenesis. Our aim was to evaluate the serum levels of interleukin-15 (IL-15), soluble receptors for IL-2 (sIL-2R) and TNF-alpha type 1 receptor (sTNF-R1) in PM/DM patients and their relation to disease activity and clinical symptoms. Thirty-eight patients who met definite or probable criteria of Bohan and Peter for DM/PM were included into the study. Results in patients with active (41 observations) and inactive disease (24 observations) were compared with control (15 subjects). The median level of IL-15 was 47.6 ± 170 pg/ml in active patients, 25.15 ± 240 pg/ml in inactive and 28.5 ± 28.89 pg/ml in controls. We demonstrated significant differences between active patients and controls in levels of IL-15 (0.016, 95%CI 1.39–57.1). The median level of sIL-2R was 314 ± 388, 235.3 ± 269 and 144.3 ± 152.9 pg/ml, and the median level of sTNF-R1 was 350 ± 388; 294.7 ± 204.7; 209.5 ± 105.9 pg/ml in active, inactive and control subjects, respectively. There were significantly higher serum levels of these cytokines in active patients than in control subjects (for sIL-2R
P
= 0.05, CI95% 0.4–331; and sTNF-R1
P
= 0.031, CI95% 15.1–321.5). The interleukin levels did not differ between inactive patients and controls. Elevation of IL-15, sIL2-R and sTNF-R1 in active patients provides preliminary evidence for the activation of inflammatory response during PM/DM flares. Further studies may be needed to explain the mechanisms driving these diseases.