01.12.2015 | Research article | Ausgabe 1/2015 Open Access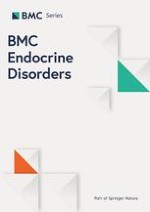 Serum macroprolactin levels in pregnancy and association with thyroid autoimmunity
Zeitschrift:
Autoren:

Metin Guclu, Soner Cander, Sinem Kiyici, Ebru Vatansever, Arif Bayram Hacihasanoğlu, Gurcan Kisakol
Wichtige Hinweise
Competing interests
The authors declare that they have no conflict of interest. No payment has been made to any of authors due to all researchers working in the same hospital and collaborated voluntary.
Authors' contributions
MG designed the study and wrote the manuscript. SC contributed to patient selection and performed the statistical analysis. SK participated in its design and helped to draft the manuscript. EV carried out the laboratory studies. ABH and GK participated in coordination of study and contributed to patient selection. All authors read and approved the final manuscript.
Abstract
Bacground
To assess the contribution of macroprolactin to high serum prolactin levels and their association with thyroid status and thyroid autoimmunity during pregnancy.
Methods
138 pregnant women who suspected of having thyroid dysfunction were studied and divided into three groups according to the thyroid status; group 1; euthyroidism (n 40), group 2; hypothyroidism (n 54), and group 3; hyperthyroid (n 44). Polyethylene glycol (PEG) precipitation method was used for detection of macroprolactin. A percentage recovery of 40 % or less is considered as macroprolactinemia. If macroprolactin was negative, the percentage of monomeric prolactin recovery (monoPRL %) after PEG precipitation was used for comparison between the groups.
Results
Macroprolactinemia was found in two patients (1.4 %) one from hypothyroid and other from euthyroid group. Basal prolactin levels in these patients were 400 and 403 ng/mL respectively. Referring to all patients, there was no correlation between PRL, macroPRL or monoPRL % with thyroid hormone status and also with the serum levels of thyroid antibodies (p > 0.05). A positive correlation was observed between the serum levels of PRL with TSH (p = 0.014 and r = 0.219), while a negative correlation was found with FT4 (p = 0.011 and r = −0.227).
Conclusions
Despite the fact that serum prolactin levels were found to be high during pregnancy, the contribution of macroprolactin was found to be insignificant in our study. Unlike other auto immune diseases, we could not find any relationship between thyroid autoimmunity and PRL, macroPRL or monoPRL %. These results confirmed that measured prolactin was quite homogeneous during pregnancy.