10.02.2020 | Article | Ausgabe 5/2020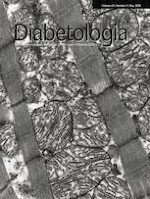 Serum tenascin-C is independently associated with increased major adverse cardiovascular events and death in individuals with type 2 diabetes: a French prospective cohort
Zeitschrift:
Autoren:

Barnabas Gellen, Nathalie Thorin-Trescases, Eric Thorin, Elise Gand, Philippe Sosner, Sonia Brishoual, Vincent Rigalleau, David Montaigne, Vincent Javaugue, Yann Pucheu, Philippe Gatault, Xavier Piguel, Samy Hadjadj, Pierre-Jean Saulnier, on behalf of the SURDIAGENE Study group
Wichtige Hinweise
Electronic supplementary material
Publisher's note
Springer Nature remains neutral with regard to jurisdictional claims in published maps and institutional affiliations.
Abstract
Aims/hypothesis
Tenascin-C (TN-C) is an extracellular matrix glycoprotein highly expressed in inflammatory and cardiovascular (CV) diseases. Serum TN-C has not yet been specifically studied in individuals with type 2 diabetes, a condition associated with chronic low-grade inflammation and increased CV disease risk. In this study, we hypothesised that elevated serum TN-C at enrolment in participants with type 2 diabetes would be associated with increased risk of death and major adverse CV events (MACE) during follow-up.
Methods
We used a prospective, monocentric cohort of consecutive type 2 diabetes participants (the SURDIAGENE [SUivi Rénal, DIAbète de type 2 et GENEtique] cohort) with all-cause death as a primary endpoint and MACE (CV death, non-fatal myocardial infarction or stroke) as a secondary endpoint. We used a proportional hazard model after adjustment for traditional risk factors and the relative integrated discrimination improvement (rIDI) to assess the incremental predictive value of TN-C for these risk factors.
Results
We monitored 1321 individuals (58% men, mean age 64 ± 11 years) for a median of 89 months. During follow-up, 442 individuals died and 497 had MACE. Multivariate Cox analysis showed that serum TN-C concentrations were associated with an increased risk of death (HR per 1 SD: 1.27 [95% CI 1.17, 1.38];
p
< 0.0001) and MACE (HR per 1 SD: 1.23 [95% CI 1.13, 1.34];
p
< 0.0001). Using TN-C concentrations on top of traditional risk factors, prediction of the risk of all-cause death (rIDI: 8.2%;
p
 = 0.0006) and MACE (rIDI: 6.7%;
p
 = 0.0014) improved significantly, but modestly.
Conclusions/interpretation
In individuals with type 2 diabetes, increased serum TN-C concentrations were independently associated with death and MACE. Therefore, including TN-C as a prognostic biomarker could improve risk stratification in these individuals.