01.12.2012 | Research article | Ausgabe 1/2012 Open Access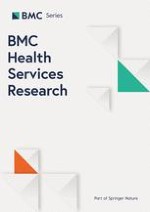 Service provision and barriers to care for homeless people with mental health problems across 14 European capital cities
Zeitschrift:
Autoren:

Réamonn Canavan, Margaret M Barry, Aleksandra Matanov, Henrique Barros, Edina Gabor, Tim Greacen, Petra Holcnerová, Ulrike Kluge, Pablo Nicaise, Jacek Moskalewicz, José Manuel Díaz-Olalla, Christa Straßmayr, Aart H Schene, Joaquim J F Soares, Andrea Gaddini, Stefan Priebe
Wichtige Hinweise
Electronic supplementary material
The online version of this article (doi:
10.​1186/​1472-6963-12-222
) contains supplementary material, which is available to authorized users.
Competing interests
The authors declare that they have no competing interests.
Authors' contributions
All authors contributed to the design of the study and the data collection in their respective countries. RC carried out the analysis and interpretation of the data and drafted the paper. MB contributed to the interpretation of the data and drafting of the paper. SP made substantial contributions to the design of the study and contributed to the drafting of the paper. AM contributed to the analysis of the data and the drafting of the paper. MB, AM, TG, UK, JM, CS, AS and SP revised the manuscript critically for important intellectual content. All authors read and approved the final manuscript.
Abstract
Background
Mental health problems are disproportionately higher amongst homeless people. Many barriers exist for homeless people with mental health problems in accessing treatment yet little research has been done on service provision and quality of care for this group. The aim of this paper is to assess current service provision and identify barriers to care for homeless people with mental health problems in 14 European capital cities.
Method
Two methods of data collection were employed; (i) In two highly deprived areas in each of the 14 European capital cities, homeless-specific services providing mental health, social care or general health services were assessed. Data were obtained on service characteristics, staff and programmes provided. (ii) Semi-structured interviews were conducted in each area with experts in mental health care provision for homeless people in order to determine the barriers to care and ways to overcome them.
Results
Across the 14 capital cities, 111 homeless-specific services were assessed. Input from professionally qualified mental health staff was reported as low, as were levels of active outreach and case finding. Out-of-hours service provision appears inadequate and high levels of service exclusion criteria were evident. Prejudice in the services towards homeless people, a lack of co-ordination amongst services, and the difficulties homeless people face in obtaining health insurance were identified as major barriers to service provision.
Conclusions
While there is variability in service provision across European capital cities, the reported barriers to service accessibility are common. Homeless-specific services are more responsive to the initial needs of homeless people with mental health problems, while generic services tend to be more conducive to long term care. Further research is needed to determine the effectiveness of different service delivery models, including the most effective coordination of homeless specific and generic services.