01.12.2014 | Case study | Ausgabe 1/2014 Open Access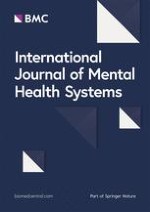 Service users' perspectives in the design of an online tool for assisted self-help in mental health: a case study of implications
Zeitschrift:
Autoren:

Deede Gammon, Monica Strand, Lillian Sofie Eng
Wichtige Hinweise
Competing interests
The authors declare that they have no competing interests.
Authors' contributions
All authors participated in the design of the study, funding acquisition, and conceptualization of the case report. DG made a first draft, MS and LSE made substantial edits. All authors read and approved the final manuscript.
Abstract
Background
The involvement of persons with lived experiences of mental illness and service use is increasingly viewed as key to improving the relevance and utility of mental health research and service innovation. Guided by the principles of Community-Based Participatory Research we developed an online tool for assisted self-help in mental health. The resulting tool, PsyConnect, is ready for testing in two communities starting 2014. This case study reports from the design phase which entailed clarifying very basic questions: Who is the primary target group? What are the aims? What functions are priorities? Roles and responsibilities? What types of evidence can legitimize tool design decisions? Here we highlight the views of service users as a basis for discussing implications of user involvement for service design and research.
Case description
PsyConnect has become a tool for those who expect to need assistance over long periods of time regardless of their specific condition(s). The aim is to support service users in gaining greater overview and control, legitimacy, and sense of continuity in relationships. It has a personalized "my control panel" which depicts status → process → goals. Functionality includes support for: mapping life domains; medication overview; crisis management; coping exercises; secure messaging; and social support. While the types of evidence that can legitimize design decisions are scattered and indirectly relevant, recent trends in recovery research will be used to guide further refinements.
Discussion
PsyConnect has undoubtedly become something other than it would have been without careful attention to the views of service users. The tool invites a proactive approach that is likely to challenge treatment cultures that are reactive, disorder-focused and consultation-based. Service user representatives will need to play central roles in training peers and clinicians in order to increase the likelihood of tool usage in line with intentions. Similarly, their influence on tool design has implications for choice of methods for evaluation.
Conclusions
Starting down the path of service user involvement in intervention design fosters commitment to follow through in the remaining implementation and research phases. While this can be time-consuming and less meriting for researchers, it is probably vital to increasing the likelihood of success of person-centered service innovations.