27.08.2020 | Compressive Neuropathies in the Upper Extremity (E Shin, Section Editor) | Ausgabe 6/2020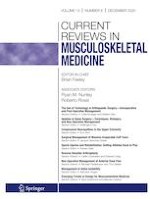 Severe Cubital Tunnel Syndrome: Considerations for Nerve Transfer Surgery
Zeitschrift:
Autoren:

Andrew Baron, Adam Strohl
Wichtige Hinweise
This article is part of the Topical Collection on
Compressive Neuropathies in the Upper Extremity
Publisher's note
Springer Nature remains neutral with regard to jurisdictional claims in published maps and institutional affiliations.
Abstract
Purpose of Review
Cubital tunnel syndrome is the second most common compressive neuropathy, next to only carpal tunnel syndrome in its incidence. Severe states of disease do not respond to nonoperative management. Likewise, functional outcomes of cubital tunnel surgery decline as the disease becomes more severe. The relatively long distance from site of nerve compression at the elbow to the hand intrinsic muscles distally makes it a race between reinnervation of the muscle and irreversible motor endplate degeneration with muscle atrophy. Loss of intrinsic function can lead to severe functional impairment with poor dexterity and clawing of the hand. While decompressing the nerve at the site of compression is important to prevent further axonal injury, until recently, the only option to restore intrinsic function was tendon transfers. Tendon transfers aim to restore thumb side pinch and control clawing with addition surgery. They also require the sacrifice of wrist extensors or finger flexors. In the past decade, nerve transfers to the distal portion of the ulnar nerve innervating these intrinsic muscles, originally described for proximal ulnar nerve injury or transections, have become increasingly popular as an adjunct procedure in severe cubital tunnel syndrome. Physicians treating severe ulnar neuropathy must be aware of these nerve transfers, as well as their indications and expected outcomes.
Recent Findings
The so-called supercharged anterior interosseous nerve (AIN)–to–ulnar motor nerve transfer has become a mainstay for distal nerve transfers for ulnar neuropathy and/or injury. Ideal patients to undergo such a procedure demonstrate severe ulnar neuropathy on nerve conduction and electromyography studies, with reduced compound muscle action potential (CMAP) amplitude and fibrillations at rest. Recent studies demonstrate nerve transfers to be superior in intrinsic muscle reinnervation compared with nerve graft in the setting of large segmental nerve defects. Likewise, compared with decompression alone, patients undergoing the supercharge procedure are more likely to regain intrinsic function and less likely to need secondary tendon transfer surgeries. Finally, initial results for sensory nerve transfer to recover sensation in the ulnar-sided digits in severe cubital tunnel are more advantageous than for decompression alone.
Summary
Distal nerve transfers offer a reliable, reproducible treatment option for the restoration of intrinsic hand function and protective sensation in the setting of severe cubital tunnel syndrome.