01.12.2012 | Research | Ausgabe 1/2012 Open Access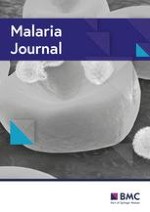 Severe imported malaria in an intensive care unit: a review of 59 cases
Zeitschrift:
Autoren:

Lurdes C Santos, Cândida F Abreu, Sandra M Xerinda, Margarida Tavares, Raquel Lucas, António C Sarmento
Wichtige Hinweise
Electronic supplementary material
The online version of this article (doi:
10.​1186/​1475-2875-11-96
) contains supplementary material, which is available to authorized users.
Competing interests
The authors declare that they have no competing interests.
Authors' contributions
LS, CA designed the study, took part in the clinical management of the patients and wrote the manuscript. SX collected, analysed and prepared the data. RL and MT performed the statistical analysis and contributed to the interpretation of the data. AS took part in the clinical management of the patients and reviewed the manuscript. This study was not supported by any research fund. All authors read and approved the final manuscript.
Abstract
Background
In view of the close relationship of Portugal with African countries, particularly former Portuguese colonies, the diagnosis of malaria is not a rare thing. When a traveller returns ill from endemic areas, malaria should be the number one suspect. World Health Organization treatment guidelines recommend that adults with severe malaria should be admitted to an intensive care unit (ICU).
Methods
Severe cases of malaria in patients admitted to an ICU were reviewed retrospectively (1990-2011) and identification of variables associated with in-ICU mortality performed. Malaria prediction score (MPS), malaria score for adults (MSA), simplified acute physiology score (SAPSII) and a score based on WHO's malaria severe criteria were applied. Statistical analysis was performed using StataV12.
Results
Fifty nine patients were included in the study, all but three were adults; 47 (79,6%) were male; parasitaemia on admission, quantified in 48/59 (81.3%) patients, was equal or greater than 2% in 47 of them (97.9%); the most common complications were thrombocytopaenia in 54 (91.5%) patients, associated with disseminated intravascular coagulation (DIC) in seven (11.8%), renal failure in 31 (52.5%) patients, 18 of which (30.5%) oliguric, shock in 29 (49.1%) patients, liver dysfunction in 27 (45.7%) patients, acidaemia in 23 (38.9%) patients, cerebral dysfunction in 22 (37.2%) patients, 11 of whom with unrousable coma, pulmonary oedema/ARDS in 22 (37.2%) patients, hypoglycaemia in 18 (30.5%) patients; 29 (49.1%) patients presented five or more dysfunctions. The case fatality rate was 15.2%. Comparing the four scores, the SAPS II and the WHO score were the most sensitive to death prediction. In the univariate analysis, death was associated with the SAPS II score, cerebral malaria, acute renal and respiratory failure, DIC, spontaneous bleeding, acidosis and hypoglycaemia. Age, partial immunity to malaria, delay in malaria diagnosis and the level of parasitaemia were not associated with death in this cohort.
Conclusion
Severe malaria cases should be continued monitored in the ICUs. SAPS II and the WHO score are good predictors of mortality in malaria patients, but other specific scores deserve to be studied prospectively.