01.12.2017 | Case report | Ausgabe 1/2017 Open Access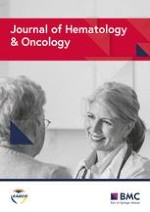 Severe nivolumab-induced pneumonitis preceding durable clinical remission in a patient with refractory, metastatic lung squamous cell cancer: a case report
Zeitschrift:
Autoren:

Hong Li, Weijie Ma, Ken Y. Yoneda, Elizabeth H. Moore, Yanhong Zhang, Lee L. Q. Pu, Garrett M. Frampton, Michael Molmen, Philip J. Stephens, Tianhong Li
Abbreviations
irAEs
Immune-related adverse effects
MAF
Mutation allele frequency
NSCLC
Non-small-cell lung cancer
PD-L1
Programmed cell death 1 ligand 1
PET
Positron emission tomography
SUVmax
Maximum standardized uptake values
TERT
Telomerase reverse transcriptase (or hTERT)
Background
First generation monoclonal antibodies against programmed death receptor 1 (PD-1) and its ligand 1 (PD-L1) have quickly become standard of care in second-line and more recently first-line treatment over chemotherapy for patients with advanced non-small cell lung cancer (NSCLC) and an increasing number of other cancer types [
1
–
6
]. Although these drugs are generally better tolerated than chemotherapy, they are associated with unique and variable immune-related adverse events (irAEs) that if not recognized and treated promptly may increase morbidity and rarely cause mortality [
7
,
8
]. We present a case of lung squamous cell cancer (SCC) with complex tumor genomic alterations to highlight the striking yet largely untapped potential of PD-1 inhibitor therapy, as well as the need for further clinical and translational research to optimize the safety and efficacy of cancer immunotherapy.
Case presentation
A 67-year-old Caucasian man, former light smoker (4 pack-year, quit >45 years ago) with refractory metastatic lung SCC, received nivolumab as third line systemic therapy. He initially presented with SCC of unknown primary with a 5.5-cm mass in the right axilla and metastases in 4 of 28 regional lymph nodes. After complete surgical resection, the patient received adjuvant chemotherapy with gemcitabine and paclitaxel for 2 cycles, followed by adjuvant radiation to the right axilla and an additional 2 cycles of gemcitabine and paclitaxel uneventfully over a 7-month period. Review of the CT scan that was performed prior to adjuvant radiation to the right axilla noted a new 10-mm nodule in the right lower lobe (RLL) of the lung that had not been previously appreciated. In retrospect, the nodule was thought to be the primary lung cancer. It was no longer present on a subsequent scan after treatment. He tolerated systemic chemotherapy relatively well but had grade 1 radiation pneumonitis in the right upper lobe (RUL) of the lungs detected by fluorodeoxyglucose (FDG)-positron emission tomography (PET)-computed tomography (CT) scan at completion of radiation. Unfortunately, surveillance PET/CT scan 4 months after completion of his last dose of chemotherapy revealed a right axillary mass of 2.8 × 1.5 cm with maximum standardized uptake values (SUVmax) of 3.8, a RLL lung nodule which had undergone cavitation and growth, measuring 2.2 × 2.7 cm with SUVmax of 6.5, and a new 5-mm lung nodule in the left lower lobe (LLL). The radiation pneumonitis in the RUL had improved without any intervention. Biopsy of the recurrent right axillary mass and RLL lung mass confirmed recurrent, moderately differentiated SCC of most likely lung primary by immunohistochemistry stains (p40: positive and TTF1: negative). Given the patient was initially thought to have locally advanced SCC of unknown primary, all these tumor specimens were sent for comprehensive tumor genomic profiling by FoundationOne (Foundation Medicine, Cambridge, MA) (Table
1
, first three columns). Available histopathological and radiographic data were reviewed at our institutional multidisciplinary thoracic oncology tumor board. Skin primary was not favored as cutaneous SCC rarely has distant metastasis and the patient did not have any skin lesion. Both the initial and recurrent tumors were present in the RLL of the lung. Together with the morphological and immunohistochemistry (IHC) evaluation, a diagnosis of lung SCC with RLL primary and metastases to the right axilla, mediastinum, and left lung was made.
Table 1
Summary of tumor genomic profiling by FoundationOne assay
Functional genomic alterations (date of specimen)

A: primary axillary tumor (11/19/2013)

B: recurrent axillary tumor (1/8/2015)

C: recurrent lung tumor (2/10/2015)

D: progressive lung tumor (9/29/2015)

Mutation allele frequency (MAF) (%)

TERT promoter -146C>T

6%

22%

35%

47%

PIK3CA Q661K

7%

24%

18%

23%

ARID2 R542 a

6%

22%

27%

30%

CDC73 G28 a

9%

CDKN2A A100V

11%

40%

48%

47%

CDKN2A R58 a

12%

39%

46%

49%

FANCC E539K

8%

21%

28%

29%

FAT1 N126fs a20

3%

22%

24%

24%

NOTCH1 splice site 5639-1G>A

18%

35%

40%

35%

PTCH1 P253L

3%

9%

15%

13%

SMAD4 Q180 a

11%

25%

36%

37%

SPEN S346F

10%

26%

17%

16%

TP53 Q317 a

2%

9%

10%

14%

TP53 Y163H

14%

37%

47%

44%

Number of functional genomic alterations

13

14

13

13

TMB (mut/Mb)

70.3

91.0

87.4

82.9

TMB percentile in lung SCC

98.8%

99.1%

99.1%

99.0%
The patient received docetaxel and an investigational agent on a clinical trial for recurrent disease. Despite an initial partial response after 2 cycles of treatment, the patient had rapid tumor progression radiographically by PET/CT scan after 6 cycles of treatment. He subsequently started on standard of care nivolumab at 3 mg/kg intravenously every 2 weeks based on CheckMate-057 [
9
]. The patient reported increasing dyspnea on exertion (DOE) and fatigue during his clinic visit for pre-cycle 3 evaluation at week 4 day 3 (i.e., cycle 2 day 10) (Fig.
1A
). He denied any productive cough, fever, or night sweats. Chest x-ray on the same day revealed no acute event although it was difficult to compare the complex lung lesions to those on the prior PET and CT scans. The patient proceeded with his third dose of nivolumab at week 5 as planned.
×
Due to worsening DOE, a follow-up PET/CT scan at week 6.5 was performed (Fig.
1B, b and c
compared to a), revealing: (1) interval development of a moderate to large right pleural effusion with adjacent compressive atelectasis, (2) significant increase in the surrounding FDG activity in the preexisting large cavitary lesion in the RLL, and (3) increased RLL consolidation with diffuse FDG activity. It was unclear if the findings in the RLL represented pneumonia, tumor progression, or drug reaction. Interestingly, excluding these lung parenchymal findings, there was significant decrease in the FDG activity and size of known tumors in the bilateral axillary and mediastinal nodes (red arrows in Fig.
1B, b
).
The patient was briefly admitted for possible severe pneumonia and received empiric intravenous antibiotics. He was discharged on oral antibiotics after all cultures were negative for infection. However, the patient's DOE and fatigue did not improve and pneumonitis developed in the LLL of the lung on chest CT scan (Fig.
1B, d
). A diagnostic bronchoscopy was performed approximately 4 weeks later, which revealed no evidence of infection and two different pathologic lesions, i.e., organizing pneumonia in the right middle lobe (RML) (Fig.
2a
) and extensive endobronchial, moderately differentiated SCC tumors in the RLL bronchus (Fig.
2b
), which were debrided from the RLL bronchus with a cryoprobe. Although the patient had received two lines of chemotherapy (gemcitabine and paclitaxel combination and docetaxel) in the prior year with the last dose of chemotherapy that was more than 2 months ago, there was no distinct tumor necrosis or treatment effect noted. There was focal inflammation within the tumor but no distinct tumor cell reaction to the inflammation (Fig.
2a
). These findings suggest freshly growing recurrent tumors in the RLL. Conversely, there was no visible tumor seen in the RML and transbronchial biopsy revealed alveolar parenchyma with fibroblast foci, mild collagen expansion of alveolar septa, and non-specific chronic inflammation (Fig.
2b
). These features as well as the patient's clinical course suggested the diagnosis of nivolumab-induced organizing pneumonia. We further determined the PD-L1 expression on these specimens by the FDA-approved IHC assay (PD-L1 22C3 IHC pharmDx, Dako—Agilent Technologies). We found PD-L1-positive cells infiltrating in the RML specimen were predominantly intra-alveolar macrophages (Fig.
2c
), which may have contributed to the development of pneumonitis. There was insufficient normal lung tissue present in this specimen for determining if PD-L1 expression on normal lung tissue may also have contributed to the development of site-specific pneumonitis. In contrast, 90% of viable tumor cells in the RLL had high PD-L1 expression, i.e., tumor proportion score (TPS) ≥50% with partial and complete cell membrane staining (Fig.
2d
).
×
Immediately after the initiation of prednisone at 60 mg per day, the patient had symptomatic improvements with decreased DOE and chest tightness and increased energy and exercise tolerance. Chest CT scan about 2 weeks later (i.e., by week 13) revealed dramatic improvement in pneumonitis (Fig.
1B, e
). The patient felt that he was nearly back to baseline 3 weeks later. He had a "flare" of pneumonitis symptoms when steroids were quickly tapered off, and subsequently improved with re-initiation of steroids with a slow taper over 2 months. Despite treatment being discontinued after three doses of nivolumab, continued tumor response to a complete remission between week 5 and week 13 (i.e., ~3 months) was evident by radiographic assessment. At the last follow-up before the submission of this report, the patient has remained in clinical remission for 14 months.
The complex diagnostic challenges encountered in this case lead to tumor genomic profiling analysis of four tumor specimens by FoundationOne assay obtained at initial diagnosis, tumor recurrence, and pneumonitis/tumor progression (Fig.
3
and Table
1
), a clinical strategy that is not routinely employed for patients with advanced SCC with no driver mutations. We found that all tumor specimens from this patient had a very high tumor mutation burden (TMB) at 87.4–91.0 and 82.9 mut/Mb in the pre- and post-nivolumab tumor specimens, respectively, corresponding to the 95–96 percentile of TMB in lung SCC (Table
1
).
×
Discussion
Conclusions
We report our multidisciplinary clinical experience and molecular and immune biomarker studies in a patient with refractory, lung SCC who developed grade 3 pneumonitis after three doses of nivolumab monotherapy concurrent with the onset of a potent antitumor response that led to a durable clinical remission. We found that high PD-L1 expression by IHC staining was seen in intra-alveolar macrophages and viable tumor cells in the pneumonitis and recurrent tumor specimens, respectively. The prompt recognition and institution of oral steroids appeared to have prevented serious morbidity and potential mortality from pneumonitis without compromising the remarkable antitumor effect. Despite discontinuation of treatment after only three doses of nivolumab, continued tumor response to a complete remission at ~3 months evident by radiographic assessments has been maintained up to the time of submission of this report at 14-month follow-up. To the best of our knowledge, this is the first report of comprehensive tumor genomic profiling on serial tumor specimens from a lung SCC patient who has had an exceptional clinical response to nivolumab. There are critical needs (1) to delineate the mechanisms underlying exceptional tumor responses and severe tissue-specific, immune-mediated toxicities, (2) to develop noninvasive assay(s) for evaluating the status of antitumor host immunity, and (3) to develop personalized immunotherapy strategies to improve the effectiveness and safety of cancer immunotherapy.
Acknowledgements
Not applicable.
Funding
The study was supported by Central Health Care Physician Training grant to HL and Personalized Therapy for Lung Cancer Gift Account to TL.
Availability of data and materials
Data sharing is not applicable to this article as no datasets were generated or analyzed during the current study.
Authors' contributions
HL and TL contributed to the conception and design of the study. KYY, EHM, LLP, and TL contributed to the patient care and case presentation. HL, WM, KKY, EHM, and TL collected and analyzed the clinical data. YZ analyzed and interpreted the histological examination and IHC stains. GMF, MK, and PJS analyzed and interpreted the tumor genomic profiling data. HL, WM, and TL drafted and revised the manuscript. All authors read and approved the final manuscript.
Competing interests
GF, MM, and PJS are employees of FMI. HL, WM, KYY, EHM, YZ, LLP, and TL declare that they have no competing interests.
Consent for publication
Informed consent for publication was obtained and is available for review by the editor.
Ethics approval and consent to participate
The study was approved by the institutional review board (IRB) at the University of California, Davis (IRB ID: 937274).
Open Access
This article is distributed under the terms of the Creative Commons Attribution 4.0 International License (
http://​creativecommons.​org/​licenses/​by/​4.​0/​
), which permits unrestricted use, distribution, and reproduction in any medium, provided you give appropriate credit to the original author(s) and the source, provide a link to the Creative Commons license, and indicate if changes were made. The Creative Commons Public Domain Dedication waiver (
http://​creativecommons.​org/​publicdomain/​zero/​1.​0/​
) applies to the data made available in this article, unless otherwise stated.