01.12.2016 | Research article | Ausgabe 1/2016 Open Access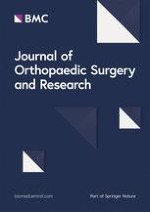 Severe open Lisfranc injuries: one-stage operation through internal fixation associated with vacuum sealing drainage
Zeitschrift:
Autoren:

Wenqing Qu, Shuqin Ni, Zhenhai Wang, Yong Zhao, Shimin Zhang, Yiheng Cheng, Tong Liu, Min Yu, Dan Wang
Abstract
Background
This study aimed to investigate the clinical feasibility of treating severe open Lisfranc injuries by means of one-stage internal fixation with k-wires associated with vacuum sealing drainage (VSD).
Methods
The clinical outcomes of 20 cases of severe open Lisfranc joint fracture-dislocation treated by using one-stage internal fixation with k-wires associated with VSD, after debridement and suturing during emergency treatment, were reviewed.
Results
At 6 and 12 months after surgery, the American Orthopaedic Foot and Ankle Society midfoot scores were 69.2 and 78.2, the positive rates were 75 and 85 %, and the average visual analogue scale scores were 4.3 and 1.3, respectively. The average time of internal fixation surgery was 47 min (30–70 min). There were three cases of wound-edge necrosis; however, there were no cases of skin necrosis around the incision, or deep infection. The mean time of first hospital stay was 16.1 days (10–23 days).
Conclusions
Treatment of severe open Lisfranc fracture and dislocation through one-stage internal fixation with k-wires in association with VSD led to fast anatomical reduction, stabilized bony structure, fast soft tissue recovery, and good short-term follow-up results.