17.10.2017 | original article | Ausgabe 21-22/2017 Open Access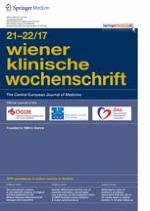 Sex and gender matters
A sex-specific analysis of original articles published in the Wiener klinische Wochenschrift between 2013 and 2015
Zeitschrift:
Autoren:

Éva Rásky, Anja Waxenegger, Sylvia Groth, Erwin Stolz, Michel Schenouda, Andrea Berzlanovich
Summary
Background
The variables sex and gender are significantly related to health and disease of women and men. Aiming at quality research, biomedical publications need to account for the key variables sex and gender.
Methods
All original articles published in the Wiener klinische Wochenschrift between 2013 and 2015 were extracted into a database. As a result, the 195 published articles were selected for review led by the Sex and Gender Equity in Research Guidelines (SAGER) by the European Association of Science Editors (EASE). The slightest indications of mentioning sex and/or gender were assessed by two reviewers independently from one another.
Results
Of the 195 publications 4 specified sex and/or gender in the title, and 62 in the abstract. None of the authors reported whether the variables sex and/or gender may have relevance and were taken into account in the design of the study. Of the 195 publications 48 mentioned the potential implications of sex and/or gender on the study results.
Conclusion
In the time span studied most of the selected articles of this journal did not account for the variables sex and/or gender systematically or adequately. For future research the existing guidelines can help authors and editors to overcome gender bias due to inadequate methods. Applying sex and gender-sensitive methods to biomedical and health research is necessary for high quality and as a precondition for results which are generalizable and applicable to both women and men.