01.12.2017 | Research | Ausgabe 1/2017 Open Access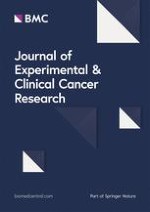 Sex-determining region Y-box protein 3 induces epithelial-mesenchymal transition in osteosarcoma cells via transcriptional activation of Snail1
Zeitschrift:
Autoren:

Manle Qiu, Daoyun Chen, Chaoyong Shen, Ji Shen, Huakun Zhao, Yaohua He
Abstract
Background
The transcription factor sex-determining region Y-box protein 3 (SOX3) plays important roles in various types of cancer. However, its expression and function have not yet been elucidated in osteosarcoma (OS).
Methods
The expression levels of SOX3 in OS tissues and OS cell lines were determined by quantitative real-time polymerase chain reaction (qRT-PCR) and Western blot analysis. The effects of SOX3 expression on OS cell biological traits were investigated by overexpressing and downregulating SOX3 protein. The expression of epithelial-mesenchymal transition (EMT) markers and transcription factors associated with EMT (EMT-TFs), were detected simultaneously. The mechanism underlying SOX3-mediated Snail1 expression was further investigated.
Results
SOX3 was upregulated in human OS tissues. SOX3 overexpression promoted the EMT, migration and invasion in OS cells. The downregulation of SOX3 resulted in opposing effects. Furthermore, SOX3 upregulation enhanced the expression of the transcriptional repressor Snail1 by binding to its promoter region. Additionally, a positive correlation among the expression of SOX3, Snail1, and E-cadherin was demonstrated in human OS tissues.
Conclusions
SOX3 promotes migration, invasiveness, and EMT in OS cells via transcriptional activation of Snail1 expression, suggesting that SOX3 is a novel regulator of EMT in OS and may serve as a therapeutic target for the treatment of OS metastasis.