01.12.2018 | Research | Ausgabe 1/2018 Open Access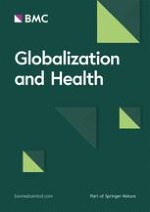 Sex differences and risk factors for diabetes mellitus - an international study from 193 countries
Zeitschrift:
Autoren:

Devy Elling, Pamela J. Surkan, Sahba Enayati, Ziad El-Khatib
Introduction
Methods
For this study we used the estimates from the Global Burden of Diseases Study 2016 (GBD 2016) for T2DM-related mortality rates and morbidity using the Disability-Adjusted Life Years (DALYs) [
23
]. We defined diabetes cases, including both T1DM and T2DM, based on the GBD 2016 definition of diabetes. More comprehensive modeling of diabetes-related mortality in the GBD 2016 has been described [
24
]. We present 2015 estimates of T2DM, including associations of DM-related mortality with related risk factors, including high BMI, dietary risks, low physical activity, and smoking. Dietary risks included diet high in processed meat, red meat, sodium, sugar-sweetened beverages and trans fatty acids [
25
]. In addition, diet low in calcium, fiber, fruits, milk, nuts and seeds, polyunsaturated fatty acids, seafood with omega-3 fatty acids, and vegetables were also classified as dietary risks [
25
]. More detailed information on each of the risk factor can be found on the Institute for Health Metrics and Evaluation (IHME) database [
25
]. Data on only individuals aged ≥15 years were available when taking the abovementioned risk factors into account. All countries were divided into three income levels based on their Gross National Income (GNI) per capita, according to the World Bank's definition in 2015. Countries categorized as LIC had GNI per capita of ≤$1205, whereas MIC and HIC had GNI per capita of $1026–12,475 and ≥ $12,476, respectively [
26
]. Morbidity using DALYs for each country income level (HIC, MIC, LIC) was calculated by summing DALYs from respective countries and dividing it by their populations. The total population in each country and the proportion of males to females were extracted from the United Nations (UN) population statistics for each year.
Statistical analyses
Data extracted from GBD 2016 were merged by location, sex, and age. Due to the non-normally distribution of the data on aggregate level, we decided to apply non-parametric statistics for in our method of analysis. Assessment of sex differences using median rate of diabetes-related mortality and risk associated with T2DM was conducted using the Wilcoxon rank-sum test. Risk factors were tested for multicollinearity using the variance inflation factor (VIF), where a VIF > 10 was considered highly collinear. Risk factors were continuous variables, and income level, sex and age were categorical variables. Thus, multiple linear regression analysis was conducted to determine the association between T2DM-related mortality and risk factors. Adjustments for country income level, sex and age were computed, and 95% confidence intervals (95% CI) were calculated. We considered alpha-level of
p
< 0.05 significant. The prevalence of T2DM-related mortality using DALYs grouped by country income level and stratification by sex was estimated. Analyses were computed using Stata statistical software v.12 (StataCorp. 2011.
Stata Statistical Software
: Release 12. College Station, TX: StataCorp LP).
Results
Discussion
Several studies have investigated disease burden due to DM, its association with other NCDs, and its impacts on the society. This present study is possibly the first study on the global level focusing on T2DM-related mortality and its relation to several major risk factors, as well as trends in DALYs over time.
We were unable to differentiate diabetes diagnoses by T1DM or T2DM, but restricted the age to ≥15 years as a means to better hone in on T2DM in the dataset. This can be considered a study limitation, as only this age group was included in the analysis. According to the definition used in this study (based on findings from previous literature, i.e., that T2DM is most common among adults) and due to the lower likelihood of T1DM in this group, the majority of our cases were likely to be T2DM. Hence, there may have been some misclassification.
Conclusion
In the present study, we found considerable increase in the burden of T2DM-related in MIC and LIC compared to HIC. Additionally, females had a higher mortality rate, with BMI as the leading risk factor. Future studies should seek to understand the relation between the cumulative effects of risk factors on T2DM-related morbidity and mortality.
Acknowledgements
The authors would like to thank Dr. Zangin Zeebari for commenting on the statistical analyses.
Availability of data and material
The datasets used and analyzed during this study are publicly available in the Institute for Health Metrics and Evaluation (IHME) Global Burden of Diseases 2016 (GBD 2016) database, the World Bank and United Nations (UN) population statistics.
Funding
Funding was not available for this study.
Ethics approval and consent to participate
Not applicable.
Consent for publication
Not applicable.
Competing interests
The authors declare that they have no competing interests.
Publisher's Note
Springer Nature remains neutral with regard to jurisdictional claims in published maps and institutional affiliations.
Open Access
This article is distributed under the terms of the Creative Commons Attribution 4.0 International License (
http://​creativecommons.​org/​licenses/​by/​4.​0/​
), which permits unrestricted use, distribution, and reproduction in any medium, provided you give appropriate credit to the original author(s) and the source, provide a link to the Creative Commons license, and indicate if changes were made. The Creative Commons Public Domain Dedication waiver (
http://​creativecommons.​org/​publicdomain/​zero/​1.​0/​
) applies to the data made available in this article, unless otherwise stated.