01.12.2018 | Research | Ausgabe 1/2018 Open Access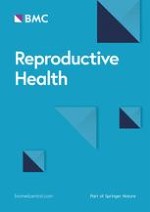 Sexual and reproductive health services utilization and associated factors among secondary school students in Nekemte town, Ethiopia
Zeitschrift:
Autoren:

Wakgari Binu, Taklu Marama, Mulusew Gerbaba, Melese Sinaga
Abstract
Background
Despite policy actions and strategic efforts made to promote sexual and reproductive health service uptake of youths in Ethiopia, its utilization remains very low and little information was found on the extent to which school youths utilize available reproductive health services in Nekempt town. This study was aimed to assess utilization of Sexual and Reproduactive Health (SRH) services and its associated factors among secondary school students in Nekemte town, Ethiopia.
Method
A school based cross-sectional study design was conducted from April 18 to 22, 2016. Multistage cluster sampling technique was used to select a total of 768 students who attended secondary schools. Sexual and reproductive health services utilization was measured using one item asking whether they had used either of sexual and reproductive health services components during the last one year or not. The data was entered using EpiData Manager with Entry Client and further analysis was done using SPSS version 21 software. Descriptive statistics, cross tabulations, biviarate and multivariate logistic regression analyses were used. All variables were set by
p
-values less than 0.05 and reported by Adjusted Odds Ratio with its 95%CI.
Result
Out of the 768 study subjects, 739 participants underwent all the study components giving response rate of 96%. About 157 (21.2%) school youths reported that they utilized SRH services. On multivariable logistic regression analysis after adjusting for other variable, discussion with health workers (AOR 3.0, 95%CI [1.7–5.2]), previous history of perceived Sexually transmitted infections (STIs) symptoms (AOR 2.6, 95%CI [1.2–5.5]), being ever sexually experienced (AOR 5.9, 95%CI [3.4–10.2]) and exposure to information from school teachers (AOR 0.36, 95%CI [0.2–0.6]) were found to be independent determinants of sexual and reproductive services utilization among secondary school youths. Inconvenient times, lack of privacy, religion, culture, and parent prohibition were barriers to SRH service uptake cited by the school youths.
Conclusions
The overall utilization of sexual and reproductive services was low among school youths in the town. Discussion with health workers, history of perceived STIs symptoms, sexual experience and information were the association factors of sexual and reproductive service utilization among secondary school youths.