06.12.2019 | Female Sexual Dysfunction and Disorders (T Lorenz and R Nappi, Section Editors) | Ausgabe 4/2019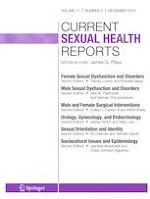 Sexual Disgust: Evolutionary Perspectives and Relationship to Female Sexual Function
Zeitschrift:
Autoren:

Courtney L. Crosby, David M. Buss, Cindy M. Meston
Wichtige Hinweise
This article is part of the Topical Collection on
Female Sexual Dysfunction and Disorders
Publisher's Note
Springer Nature remains neutral with regard to jurisdictional claims in published maps and institutional affiliations.
Abstract
Purpose of Review
The aim of this review is to examine recent literature on the relationship between sexual disgust and aspects of female sexual functioning, with consideration of how an evolutionary perspective of this important emotion may help inform treatment and intervention programs.
Recent Findings
Researchers have begun to link sexual disgust with sexual dysfunction in women. There is evidence to suggest that sexual disgust has an inhibitory effect on sexual arousal, and that it is involved in the development and maintenance of sexual pain disorders. While research has begun to investigate the influence of sexual disgust as it relates to female sexual arousal disorder and orgasm, the overall picture of whether or not sexual disgust facilitates sexual dysfunction in these areas is unclear. Understanding the evolutionary relevance of sexual disgust provides an important perspective for diagnosing and treating sexual dysfunction in women.
Summary
Sexual disgust is an emotion that evolved to coordinate a solution to the adaptive problem of avoiding negative outcomes such as disease or selecting a suboptimal mate. Although this emotion within the normal range has an adaptive function, excessively high levels are hypothesized to lead to sexual dysfunction. Understanding individual differences in trait or state-based disgust might elucidate individual differences in susceptibility of sexual dysfunction and expedite the development of interventions targeted to help resolve impediments to healthy sexual functioning.