01.12.2012 | Research article | Ausgabe 1/2012 Open Access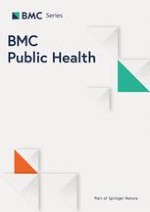 Sexual risk behaviors among youth heads of household in Gikongoro, south province of Rwanda
Zeitschrift:
Autoren:

Joseph Ntaganira, Laura J Hass, Sheila Hosner, Lisanne Brown, Nancy B Mock
Wichtige Hinweise
Laura J Hass, Sheila Hosner, Lisanne Brown and Nancy B Mock contributed equally to this work.
Competing interests
The authors declare that they have no competing interests.
Authors' contributions
JN conceptualized the study, supervised data collection and participated in the interpretation of data and drafting of manuscript. LJH and SH participated in the interpretation of findings and drafting of manuscript. LB participated in study design and the interpretation of findings and drafting of manuscript. NBM participated in the interpretation of findings and drafting of manuscript. All the authors approved the manuscript.
Background
Methods
A baseline, cross-sectional survey was conducted among YHH in Gikongoro district. Gikongoro is a remote, rural area located in southern Rwanda, one of the most densely populated and poorest countries in Africa. The study was carried out during the first quarter of 2004.
Sample
A total of 692 male and female heads of households, ages 12-24 years, were included in the study. These YHH were identified by World Vision Rwanda, an international nongovernmental organization working in Gikongoro from a list of 886 youth, all beneficiaries of World Vision's basic needs program. YHH were selected based on criteria established by the community, before the implementation of a new project aiming at providing psychosocial support to YHH. The age and health status of the caretaker were the primary indicators in assessments of vulnerability; however, other factors such as number of persons in the household and food insecurity were also considered important. In Rwanda, an orphan is defined as a child who has lost one or both parents. In this study, in accordance with the WHO, a "youth" head of household is defined inclusively as being a young person aged below 25 years who is in charge of the household.
Instrument development
The questionnaire was developed through a multiphase process to ensure its appropriateness both culturally and linguistically. Local concepts of psychosocial well-being and distress were identified through four, gender-mixed focus groups with 32 youth, conducted in the local language, Kinyarwanda. Two of the focus groups were with adolescents aged 15-19 years and two were with young adults aged 20-25 years. Discussions were recorded, transcribed verbatim, translated into English, and analyzed thematically. Information was also gathered from 30 street children, ages 13-17, who participated in a free listing activity [
32
]. These children were living in Butare, at approximatively 15 kilometres from Gikongoro. Researchers used these findings to select items from the Center for Epidemiological Studies Depression (CES-D) survey instrument to be used in the questionnaire. The draft questionnaire was then translated into Kinyarwanda before being submitted to a technical committee of experts for review. These experts included professors from Tulane University and local professionals including National University of Rwanda professors, NGO and governmental representatives, and persons with psychosocial and mental health expertise. Finally, the questionnaire was refined after pre-testing and piloting with 30 street children from Butare and 89 YHH from rural Kigali. None of the participants in the focus group discussions, free listing activity, or pre-testing of questionnaire were included in the final data collection.
Study procedures
Twenty trained data collectors of both gender conducted the fieldwork under the supervision of the National University of Rwanda, School of Public Health. Face-to-face gender-matched interviews, lasting 1-2 hours, took place in the homes of respondents to ensure confidentiality and improve disclosure. Informed consent was sought prior to each interview and each respondent was informed of his or her right to withdraw from the study at any time without penalty. The consent statement was read to the potential respondents. They were informed that the research should not put them at risk. However, each respondent was informed that some questions may concern topics that are difficult or upsetting and that they were free to end the interview at any time.
Data collectors were sensitized to anticipate adverse consequences among respondents and trained to pause and offer support if interviews provoked a strong emotional reaction, continuing only when the respondent agreed. The discovery of youth in danger, such as suicidal ideation or a history of physical or sexual abuse and neglect, were automatically reported to World Vision staff for referral and further intervention.
A small bag of household items consisting of a candle, matches, soap, rice, and flour, was provided as a token of appreciation and in compensation for participants' time. Ethical approval for the study was obtained from the Tulane University Health Sciences Institutional Review Board and the Rwandan Ethical Review Board under the Ministry of Health.
Measures
Demographic characteristics
Demographic characteristics of YHH included were age, gender, number of years as head of household, number of other children and youth in the household, current school enrolment, education achievement, and household characteristics (assets owned, socioeconomic status index).
Knowledge of HIV/AIDS prevention and perception of HIV/AIDS infection risk
Six items were used to measure HIV/AIDS prevention knowledge including "abstain from sex", "being faithful to one partner", "condom use", "avoid injections", "avoid sharing razors/blades", and "avoid traditional doctors". Only "yes"/"no" answers were possible. ABC knowledge of HIV prevention was measured by three factors: abstinence, being faithful to one partner and condom use. A respondent was considered as having correct knowledge of HIV prevention when he/she responded "yes" to the three questions. Respondents were also asked their perception of HIV infection risk, if they knew someone who had died of AIDS and their relationship to that person, and if they knew of a place where they could obtain a condom.
Sexual activity
Respondents were asked to describe their relationship with their current partner, if applicable. Sexual intercourse was defined as full penile-vaginal penetration. Those who reported a history of sexual intercourse responded to further questions, including the age of first sexual intercourse, age of first partner, condom use at the first sexual encounter, number of lifetime sexual partners, and partners in the last twelve months. For those who were sexually active in the previous twelve months, information was gathered regarding the use of condoms at the last sexual encounter. Sexually active female youth were asked if they have ever been pregnant, sexually active male youth, if they have ever gotten a girl pregnant. Transactional sex was assessed by asking respondents whether they had ever had sex expecting someone to take care of them or their siblings, or received anything in exchange for sex, such as money or gifts.
Other risk behaviors: alcohol consumption, use of drugs
Youth were asked whether they had ever used alcohol and/or marijuana. For those who used alcohol, the frequency of their consumption was collected.
Community connectedness and depression
Social connectedness to the community was measured by four factors: community group affiliation, peer relationships, having moved from the area more than twice in the last five years, and perceived social support [
33
]. The assumption being that youth who do not belong to a community group or who have moved often were less likely to feel socially connected. A scale was also generated to assess the level of adult support available to the youth. The scale consisted of four items including whether they had an adult in their life that they can always depend on, someone to give them advice and guidance, someone to comfort them when they are sad or sick, and an adult who would go to the authorities with them if they needed help. Depression was measured by using the 20-item standardized CES-D. Cronbach's alpha was calculated for each of these scales to assess internal consistency; scores were 0.87 and 0.84 respectively.
Data analysis
Data were analyzed using SPSS 15.0 for Windows. Factor Analysis using Principal Components with varimax rotation was done. For this study, using the eigenvalue greater than 1.0 test, a minimum of 0.40 for factor loadings and 0.60 for alpha levels was established [
34
]. Cronbach's alpha was calculated to assess the internal consistency of scale items as reported above (adult support and depression). Socio-demographic, HIV/AIDS knowledge and sexual risk behavior variables were stratified by gender. Means and standard deviations were computed for continuous variables and proportions for categorical variables. Bivariate analyses of all the study variables were performed to examine differences between males and females heads of households. Chi-square analyses and its corresponding odds ratio, and 95% confidence interval were used to examine whether the bivariate association between pairs of dichotomous independent and dependent variables was significant and the magnitude of the association. Student's
t
-tests were computed to test the difference in means. A logistic regression analysis was used to assess the independent contribution of each factor in predicting the debut of having sex, after controlling for demographic variables and other independent variables. Only non-demographic variables that were significant in the bivariate analysis at
p
values less than 0.05 were entered into the model. Finally, a possible interaction with the outcome of interest was tested with the main effects.
Results
Discussion
Knowledge of the "ABC" HIV/AIDS messages is very low among YHH with only 19.8% of youth being able to cite all three prevention measures. Use of condom was particularly less likely to be known among females than males (48.9% versus 65.7%). Knowledge of both use of condom and being faithful to one sexual partner was also very low at less than 20%. Although 85% of YHH seem to know a person who died of AIDS, the majority (68.9%) do not perceive themselves at risk of HIV infection. Half of respondents (50.7%) reported knowing a neighbor who had died of AIDS, reflecting the high HIV prevalence in the community. Results from the 2005 RDHS show a similar trend of HIV knowledge although figures are much higher; 51% of young women and 54% of young men age 15-24 were shown to have a comprehensive knowledge (Use of condom and limiting sexual intercourse to one faithful uninfected partner) of the means of prevention and transmission of HIV/AIDS. In addition, 79.5% of women and 88.4% of men knew that the risk of contracting HIV/AIDS can be limited by using condoms.
Among YHH in Gikongoro, 36.9% of males and 28.3% of females reported a history of penetrative sexual intercourse. Respondents in this population reported a very young age of sexual debut with 41% before the age 15; males being more likely to start earlier than females (50.4% versus 26.7%). The 2005 RDHS again shows similar ratios between males and females, but much lower percentages of early sexual intercourse in the DHS study with more frequency among men (14%) than women (5%).
While sexual activity is higher among YHH respondents compared to youth of the same age in the general population, the use of condoms is not common. Thirty-three percent reported having had at least one partner during the past twelve months with only 13.2% using condoms during the last sexual intercourse. In the 12 months preceding the 2005 RDHS, approximately 5% of never-married women age 15-24 had had sexual intercourse. Among these women, 25% used a condom at their last sexual intercourse. Among never-married men age 15 to 24, approximately 9% reported having had sexual intercourse in the past 12 months and, among these, 39% used a condom at their last sexual intercourse. Similarly, the use of condoms appeared not common at first intercourse in this study population. On average, only 8.3% reported the use of condoms at first sex in our study compared to 12% for men and 7% for women among youth age 15-24 in the DHS.
This study has identified several factors related to sexual experience among YHH in Rwanda. Some of these are characteristics of youth themselves, while others are linked to the environment in which they are embedded. Having moved more than two times, marijuana use, and the perception of HIV risk infection were significantly associated with having ever had sex. In contrast, being in school and having a close friend were protective for sexual onset.
The study findings concerning the perception of HIV risk infection by youth are also worthy of note. Only 31% of youth respondents perceived themselves at risk of HIV infection and they were more likely to have sexual intercourse. This low risk perception coupled with the incomplete HIV/AIDS prevention knowledge and the low level of condom use strongly suggest that HIV prevention campaigns throughout the country have failed in reaching and informing YHH about the risks of HIV infection, and indicate that these efforts should be reinforced. The low numbers of condom use in this sample of YHH did not allow for further analysis.
Limitations of the study include the fact that the study methodology was cross-sectional for which the direction of causal relationships cannot be determined. In addition, measures of behavior such as sexual activity, number of partners, and age of sexual debut were based on self-report taken at the time of recruitment. Data are thus subject to reporting errors/bias and it is also possible that the use of face-to-face interviews to collect data may have further contributed to reporting errors. Because sexual behaviors are still taboo in Rwanda and may be a source of stigmatization, frequencies of behaviors identified in this study may therefore underestimate actual rates. Finally, this study was limited by sampling orphan YHH from a very remote area in Rwanda, recognized as the poorest in the country. Caution should therefore be exercised when generalizing the study findings to other demographic groups and geographic areas. More research is therefore needed to compare sexual risk behavior among orphans and non-orphans youth in urban or rural areas. A longitudinal study to examine the impact of parental illness or death on sexual behavior is also necessary to determine the effect and causal relationships between variables.
Conclusions
This study reports on the prevalence of sexual risk behaviors and factors predicting sexual onset among YHH in Rwanda. The findings suggest that YHH have needs in terms of HIV/AIDS education and prevention interventions. Respondents demonstrated low knowledge levels of the "ABC" program, and early sexual activity with a higher proportion of older partners; condom use was not reported by the majority of respondents. These findings emphasize the importance of implementing HIV prevention programs that provide knowledge, enhance negotiations skills, target specific prevention-related social norms and increase the perception of HIV infection risk among youth. Life-skills education programs may represent an effective strategy in targeting potential protective measures and alleviating risk related factors.
Acknowledgements
This work was made possible through the financial support of Horizons/Population Council with funding from the United States Agency for International Development and the President's Emergency Plan for AIDS Relief. World Vision US in Washington, DC, ensured continuous funding for the program implementation of this project. In particular, we thank Eleazar Nkunda and Eduard Kalisa of World Vision Rwanda for their support and collaboration in this project. Above all, we are grateful to all the orphans who graciously participated in this study and without whom this study would not have been possible.
This article is published under license to BioMed Central Ltd. This is an Open Access article distributed under the terms of the Creative Commons Attribution License (
http://​creativecommons.​org/​licenses/​by/​2.​0
), which permits unrestricted use, distribution, and reproduction in any medium, provided the original work is properly cited.
Competing interests
The authors declare that they have no competing interests.
Authors' contributions
JN conceptualized the study, supervised data collection and participated in the interpretation of data and drafting of manuscript. LJH and SH participated in the interpretation of findings and drafting of manuscript. LB participated in study design and the interpretation of findings and drafting of manuscript. NBM participated in the interpretation of findings and drafting of manuscript. All the authors approved the manuscript.