07.02.2018 | Ausgabe 4/2018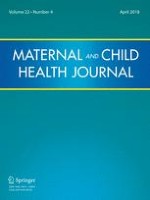 Sexually Transmitted Diseases Among Pregnant Women: 5 States, United States, 2009–2011
Zeitschrift:
Autoren:

Charnetta L. Williams, Leslie L. Harrison, Eloisa Llata, Ruben A. Smith, Elissa Meites
Wichtige Hinweise
Preliminary findings of this research were presented as a poster presentation during IDWeek, joint meeting of the Infectious Diseases Society of America, the Society for Healthcare Epidemiology of America, HIV Medicine Association, and the Pediatric Infectious Diseases Society, San Diego, CA, USA, October 7–11, 2015.
Abstract
Introduction
Screening for specific sexually transmitted diseases (STDs) during pregnancy has been a longstanding public health recommendation. Prior studies have described associations between these infections and socioeconomic factors such as race/ethnicity and education.
Objectives
We evaluated the prevalence of STDs and the correlation socioeconomic factors have with the presence of these infections among pregnant women in the United States.
Methods
We conducted an analysis using self-reported data from 12,948 recently pregnant women from the Pregnancy Risk Assessment Monitoring System (PRAMS) in 5 states during 2009–2011. Responses to questions about curable STDs (chlamydia, gonorrhea, syphilis, trichomoniasis) diagnosed during pregnancy were utilized to calculate weighted STD prevalence estimates and 95% confidence intervals (CI). A logistic regression was also conducted to identify maternal socioeconomic characteristics significantly associated with STDs; results are displayed as adjusted prevalence ratios (aPR). The PRAMS protocol was approved at PRAMS participating sites and by CDC's Institutional Review Board.
Results
Overall, 3.3% (CI 2.9–3.7) reported ≥ 1 curable STD during her most recent pregnancy. The adjusted STD prevalence was higher among women with younger age (aPR, 2.4; CI 1.8–3.4), non-Hispanic black race/ethnicity (aPR, 3.3; CI 2.4–4.1), unmarried status (aPR, 2.1; CI 1.4–3.0), no college education (aPR, 1.4; CI 1.0–1.9), annual income < $25,000 (aPR, 2.0; CI 1.3–3.2), and no pre-pregnancy health insurance (aPR, 1.4; CI 1.1–1.8).
Conclusions for Practice
This is the largest study of prevalence of self-reported curable STDs among U.S. pregnant women. Differences in STD prevalence highlight the association between certain socioeconomic factors and the presence of STDs.