01.12.2019 | Original investigation | Ausgabe 1/2019 Open Access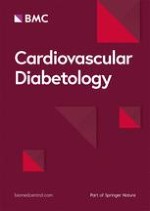 SGLT2 inhibition with empagliflozin attenuates myocardial oxidative stress and fibrosis in diabetic mice heart
Zeitschrift:
Autoren:

Chenguang Li, Jie Zhang, Mei Xue, Xiaoyu Li, Fei Han, Xiangyang Liu, Linxin Xu, Yunhong Lu, Ying Cheng, Ting Li, Xiaochen Yu, Bei Sun, Liming Chen
Abbreviations
SGLT2
sodium-glucose cotransporter 2
TGF-β
transforming growth factor-β
NAD+
nicotinamide adenine dinucleotide
LVIDD
left ventricular internal dimension in diastole
LVIDS
left ventricular internal dimension in systole
IVSs
interventricular septal thickness in systole
IVSd
interventricular septal thickness in diastole
LVPWs
left ventricular posterior wall thickness in systole
LVPWd
left ventricular posterior wall thickness in diastole
LDL-C
low-density lipoprotein cholesterol
HDL-C
high-density lipoprotein cholesterol
ELISA
enzyme-linked immunosorbent assay
PBS
phosphate buffered saline
PAGE
polyacrylamide gel electrophoresis
NADPH
nicotinamide adenine dinucleotide phosphate
Introduction
The global incidence of diabetes mellitus (DM) has gradually increased over the past three decades and has become a major public health problem worldwide [
1
]. Global estimates of diabetes prevalence in 2017 indicate that 451 million people aged 18–99 years are affected with diabetes worldwide, and 693 million people are projected to have diabetes by the year 2045, with most individuals suffering from type 2 DM [
2
]. Uncontrolled diabetes can lead to a number of short- and long-term complications, including heart disease, dyslipidaemia, diabetic nephropathy and nerve damage, and vision problems. Cardiovascular disease is the leading cause of death among all of the diabetic complications [
3
]. Diabetic cardiomyopathy is defined as a diffuse myocardial fibrosis, myofibrillar hypertrophy, and impaired contractile function in the absence of valvular, hypertensive, or ischemic heart disease [
4
,
5
]. However, despite the numerous experimental and preclinical studies that have been conducted, the precise mechanisms underlying the pathogenesis of diabetic cardiomyopathy are still uncertain.
Oxidative stress is known to be associated with the development of diabetes. A growing body of evidence suggests an increase in oxidative stress in response to hyperglycaemia in vascular tissues of patients with DM [
6
,
7
]. Several reports have shown that an increased level of reactive oxygen species (ROS), induced by hyperglycaemia, leads to impaired contractile function and myocardial fibrosis in the left ventricle of diabetic rats [
8
,
9
]. In addition, the extent of myocardial fibrosis is associated with impairment in cardiac contractile function. ROS directly induces DNA damage and activates poly (ADP-ribose) polymerase (PARP-1) in the nucleus, which results in the depletion of cellular nicotinamide adenine dinucleotide (NAD
+
) and adenosine triphosphate, mitochondrial permeability transition pore opening, mitochondrial dysfunction, and initiation of cell death via both necrosis and apoptosis [
10
]. Further ROS can promote myocardial fibrosis by producing profibrotic factors, such as transforming growth factor β (TGF-β) and activating the epithelial mesenchymal transition process of the differentiation of cardiac fibroblasts into extracellular matrix producing myofibroblasts [
11
]. Moreover, ROS causes the degeneration of lipid, protein, and nuclei acid and exacerbates the cardiac inflammatory response and cardiomyocytes apoptosis. Therefore, to prevent the development of diabetic cardiomyopathy, more effective therapies should be used both to manage blood glucose to near-normal levels and reduce oxidative stress. However, research on the effects of antioxidants on cardiac fibrosis and remodelling remains scarce.
Empagliflozin, a sodium-glucose cotransporter 2 (SGLT2) inhibitor, is a newly developed oral antidiabetic drug to enhance renal glucose excretion or glycosuria and reduce hyperglycaemia in an insulin-independent manner by highly selective inhibition of SGLT2 [
12
]. SGLT2 is mainly located in the apical brush border membrane of the S1 segment of the proximal convoluted tubules, which regulates 90% of the reabsorption of glucose from glomerular filtrate. Therefore, SGLT2 inhibitor can increase the urinary glucose level and reduce blood glucose. Empagliflozin is different form conventional antidiabetic drugs, which rely on insulin secretion, and represents a novel class of antidiabetic drugs. It has been approved for the treatment of type 2 diabetes in adults since 2014. Studies performed in streptozotocin-induced type 1 diabetic rats have shown that empagliflozin can reduces ROS in pancreatic β-cells [
13
]. Another study revealed that empagliflozin can ameliorate oxidative stress in aortic vessels and prevent endothelial dysfunction in the aortic rings of streptozotocin-induced type 1 diabetic rats [
14
]. However, little is known about whether empagliflozin can reduce the oxidative stress of cardiac tissue and prevent cardiac fibrosis and remodelling in type 2 diabetic patients.
In the current study, we assess the efficacy of the SGLT2 inhibitor empagliflozin in reducing oxidative stress and preventing diabetic-induced myocardial fibrosis using the type 2 diabetic KK-Ay mice model. We also explore the downstream signalling of myocardial fibrosis activated by oxidative stress in the left ventricle of a type 2 diabetic mice model. We further evaluate its effect on left ventricular dysfunction and myocardial structural damage induced by type 2 diabetes.
Methods
Animal procedure and drug treatment
Thirty 8-week old KK-Ay mice (genetic type 2 diabetes model) and C57BL/6J mice were purchased from Beijing HFK Bioscience Co, Ltd (Beijing, China). The procedures of the experiments were authorized and specifically approved by the institutional ethical committee of Tianjin Medical University. Mice were housed in cages (4–6 per cage) with free access to the drink/feed boxes. Mice were housed in a room kept at 24 °C with 12:12 h light/dark cycle.
The type 2 diabetes model mice were fed a high-fat diet. Blood glucose was measured daily. The mice with a blood glucose concentration greater than 15 mM (200 mg/dL) for 2 consecutive weeks were used for the following experiments. Subsequently, animals were randomized into groups (15 per group) and raised for 8 weeks. The groups were as follows: (1) control group: healthy C57BL/6J mice with no treatment; (2) DM group: type 2 diabetic KK-Ay mice with no treatment; (3) DM + empagliflozin (DM + EM) group: type 2 diabetic KK-Ay mice treated with empagliflozin (10 mg/kg/day for 10 weeks, oral gavage, 0.5% hydroxyethylcellulose was used as the vehicle). Empagliflozin, a selective SGLT2 inhibitor, was provided by Boehringer Ingelheim Pharma GmbH & Co. KG (Germany).
Echocardiographic evaluation
Echocardiographic measurement was performed before the experimental intervention and at the end of the study period. We used M-mode echocardiography equipped with 17.5 MHz liner array transducer system (Vevo 2100™ High Resolution Imaging System; Visual Sonics). As described in a previous study [
15
], the heart rate (HR) and the following structural variables were evaluated: left ventricular internal dimension in diastole (LVIDD), left ventricular internal dimension in systole (LVIDS), interventricular septal thickness in systole (IVSs) and in diastole (IVSd), and LV posterior wall thickness in systole (LVPWs) and diastole (LVPWd). LV mass was calculated using the formula [(LVIDd + LVPWd + IVSd)
3
 − (LVIDd)
3
 × 1.04 × 0.8 + 0.6]. LV function was assessed by the following parameters including fractional shortening (FS), ejection fraction (EF), and E/A ratio. All measurements were conducted by a single investigator who was blinded to the experimental groups.
Myocardial hydroxyproline concentration
The myocardial hydroxyproline concentration of the left ventricle was measured to estimate the myocardial collagen content according to the methods described by Colgrave [
16
]. The measurements were performed by a spectrophotometer using commercial kit (BioVision, Mountain View, CA, USA) according to the manufacturer's protocols. The results were expressed as ng/mg total protein.
Detection of serum lipids, glucose, insulin, and HbA1c levels
At the end of the study, mice were anaesthetized by inhalation of 3% isopentane in air. The fasting blood specimens were collected into commercial tubes containing lithium heparin as an anticoagulant via the sublingual vein from each animal and centrifuged for 6 min at 3000 rpm/min. The plasma was kept in a plain tube and stored at − 20 °C until analysis. Total cholesterol (TC), triglyceride (TG), low-density lipoprotein cholesterol (LDL-C), and high-density lipoprotein cholesterol (HDL-C) plasma concentrations were determined by spectrophotometric methods. Blood glucose levels were measured using a glucometer (ACCU-CHEK, Roche, USA). After an overnight fast, fasting insulin and proinsulin levels were determined using mouse insulin and proinsulin enzyme-linked immunosorbent assay (ELISA) kits, respectively (Nanjing Jiancheng Biotech, China). Blood was also retained for measurement of HbA1c by a chromatographic–spectrophotometric-ion exchange kit (Biosystems, Spain).
Assessment of oxidative stress in heart tissue
Animals were euthanized, and hearts were removed and rinsed retrogradely with a Krebs–Ringer solution (115 mM NaCl, 5 mM KCl, 1.2 mM KH 2PO 4, 25 mM NaHCO 3, 1.2 mM MgSO 4, 1.25 mM CaCl 2 and 11 mM glucose) at the end of the study. The temperature of the perfusing solution was maintained at 37 °C. The hearts were then weighed, and cardiac tissues were homogenized on ice in chilled phosphate-buffered saline (PBS) at pH 7.4, containing 1 mM EDTA. The homogenates were centrifuged in cold saline for 10 min at 7000 rpm/min. The protein concentration of the supernatant was determined by the bovine serum albumin kit as a standard. The supernatants were used for analysis of the lipid hydroperoxide level and glutathione peroxidase (GSH-Px), superoxide dismutase (SOD), and malondialdehyde (MDA) levels. The measurements were performed by a spectrophotometer using commercial kits (Solarbio, China) according to the manufacturer's protocols. The lipid hydroperoxide level was expressed as nmol/mg protein. The GSH-Px, SOD, and MDA levels were expressed as μmol/mg protein, nmol/mg protein, and mmol/mg protein, respectively. The expression level of NOX4 was measured by Western blotting. Mouse monoclonal anti-Nox4 (1:1000, Abcam) and horseradish peroxidase–conjugated secondary antibody (CWBIO) were used. β-Actin (1:1000, Abcam) was used as a reference. The details of this method are described below.
Histological and immunohistochemical analysis
The heart tissues were fixed in 4% paraformaldehyde in 0.1 M phosphate buffer for 48 h, dehydrated and embedded in paraffin, sectioned at 4-μm thickness, and mounted on glass slides. Masson's trichrome staining was used to assess the extent of fibrosis in cardiac muscle.
For antigen retrieval, the deparaffinized slides were kept in a solution of 10 mM sodium citrate (pH 6.0) for 10 min at 100 °C. The sections were then incubated in 3% hydrogen peroxide for blocking endogenous peroxidase activity and incubated with primary antibody (mouse monoclonal antibody to TGF-β1, collagen I and collagen III; Abcam) for 1.5 h, followed by corresponding secondary antibody for 2.5 h at room temperature. Subsequently, the sections were washed in PBS three times and incubated in 0.02% diamino benzidine solution for 2–8 min. After counterstaining with haematoxylin, the slides were washed briefly, mounted with resinene, and observed in the light microscope.
Analysis of the Nrf2/ARE and TGF-β/SMAD pathway by western blotting
The Western blotting protocol was described in our previous study. Briefly, myocardial tissue was lysed in ice-cold RIPA buffer (150 of mM sodium chloride, 0.1% sodium dodecyl sulphate (SDS), 0.5% sodium deoxycholate, 1.0% NP-40, PMSF 1 mM, and 50 mM of Tris, pH 8.0) for total protein extraction. The total protein concentration was quantified by a BCA Protein Assay Kit (Medchem Express, USA). Equal amounts of protein were separated by 12% SDS–polyacrylamide gel electrophoresis (PAGE). Then, the protein was transferred from the gel to a polyvinylidene fluoride membrane. After blocking with 5% skim milk, the membrane was incubated overnight in primary antibody (Nrf2, HO-1, TGF-β1, p-Smad2, Smad2, p-Smad3, Smad3, Smad7, α-SMA 1:1000, Abcam). Bands were detected with specific horseradish peroxidase-conjugated secondary antibody (CWBIO). β-actin (1:1000, Abcam) was used as a reference of total cell protein. The density of the signal was quantified by ImageJ (version 1.8.0).
Statistical analysis
All data were analysed using GraphPad Prism statistical software. Data were presented as mean and standard deviation (SD). For statistical evaluation, statistical differences among groups were performed by one-way analysis of variance followed by least significant difference test.
P
values less than 0.05 were considered to indicate statistically significant differences.
Results
Discussion
Conclusions
In summary, the SGLT2 inhibitor empagliflozin ameliorates myocardial fibrosis partly through inhibition of collagen formation and deposition via the classical TGF-β/Smad pathway and decreases oxidative stress via promoting Nrf2 translocation to the nucleus and activating Nrf2/ARE signalling in the type 2 diabetic KK-Ay mice model. In addition, 8 weeks of empagliflozin treatment rescues the LV structure and function in diabetic mice. Therefore, empagliflozin is a promising agent in the prevention and treatment of diabetic cardiomyopathy. However, more clinical data are needed to verify the safety and efficacy of empagliflozin in treating patients with diabetic cardiomyopathy, and its potential mechanism also needs further exploration.
Authors' contributions
LCG participated in the study design, performed the statistical analysis, and drafted the manuscript. ZJ, XM, LXY, SB, and CLM contributed to study design, and contributed to preparation, editing, and review of the manuscript. XLX and LYH participated in the study design and contributed to quality control of data and editing and review of the manuscript. CY, LT, and YXC participated in data acquisition and contributed to data analysis and interpretation. ZJ and HF assisted with the data collection. All authors read and approved the final manuscript.
Acknowledgements
Not applicable.
Competing interests
The authors declare that they have no competing interests.
Consent for publication
Not applicable.
Data availability
Please contact author for data requests.
Ethics approval and consent to participate
The study complied with the Declaration of Helsinki and was approved by the Institutional Ethics Committee of Metabolic Diseases Hospital, Tianjin University (Tianjin, China).
Funding
This work was supported by the National Natural Science Foundation of China (Nos. 81470187 and 31800722), Natural Science Foundation of Tianjin (Nos. 15ZXHLSY00460, 18JCYBJC26100, and 18JCZDJC35500).
Publisher's Note
Springer Nature remains neutral with regard to jurisdictional claims in published maps and institutional affiliations.
Open Access
This article is distributed under the terms of the Creative Commons Attribution 4.0 International License (
http://​creativecommons.​org/​licenses/​by/​4.​0/​
), which permits unrestricted use, distribution, and reproduction in any medium, provided you give appropriate credit to the original author(s) and the source, provide a link to the Creative Commons license, and indicate if changes were made. The Creative Commons Public Domain Dedication waiver (
http://​creativecommons.​org/​publicdomain/​zero/​1.​0/​
) applies to the data made available in this article, unless otherwise stated.