01.12.2017 | Research | Ausgabe 1/2017 Open Access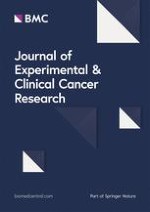 SHCBP1 promotes synovial sarcoma cell metastasis via targeting TGF-β1/Smad signaling pathway and is associated with poor prognosis
Zeitschrift:
Autoren:

Changliang Peng, Hui Zhao, Yan Song, Wei Chen, Xiaoying Wang, Xiaoli Liu, Cheng Zhang, Jie Zhao, Ji Li, Guanghui Cheng, Dongjin Wu, Chunzheng Gao, Xiuwen Wang
Abstract
Background
Our previous studies reported that SHC SH2-domain binding protein 1 (SHCBP1) functions as an oncogene via promoting cell proliferations in synovial sarcoma (SS) cells. However, whether SHCBP1 has any effect on tumor metastasis remains unexplored.
Methods
The expression of SHCBP1 was analyzed in 76 SS tissues and two SS cell lines by immunohistochemistry and real-time RT-PCR. The relationship between SHCBP1 expression and the clinicopathological features of SS was investigated. The role of SHCBP1 in SS cell adhesion, migration, invasion and angiogenesis was explored by adhesion, Wound healing, Transwell, and Matrigel tube formation assays. Western blotting was conducted to detect the protein expressions of TGF-β1/Smad signaling pathway and EMT-related markers. The key molecules associated with migration, invasion and EMT were evaluated by immunohistochemistry in tumor specimens.
Results
In current study, we demonstrated that SHCBP1 overexpression significantly enhanced adhesion, migration, invasion and angiogenesis of SS cells. In contrast, SHCBP1 knockdown elicited the opposite effects on these phenotypes in vitro. SHCBP1 promoted tumor metastasis through inducing epithelial-mesenchymal transition (EMT) in SS cells. SHCBP1 knockdown could block the incidence of metastasis and EMT in SS cells. Furthermore, transforming growth factor-β1 (TGF-β1) induced SHCBP1 expression in a time-dependent pattern and SHCBP1 knockdown inhibited TGF-β1-induced EMT. The activation of the TGF-β1/Smad signaling pathway was involved in the oncogenic functions of SHCBP1 in SS. In addition, high expression of SHCBP1 in SS patients was associated with tumor progression and decreased survival as well as poor prognosis.
Conclusions
Taken together, our results indicate that SHCBP1 may promote the metastasis of SS by inducing EMT through targeting TGF-β1/Smad signaling pathway and can be a potential molecular target for SS therapy.