01.12.2014 | Experimental research - Brain Injury | Ausgabe 12/2014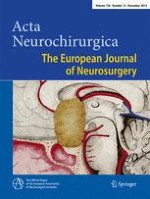 Shock wave trauma leads to inflammatory response and morphological activation in macrophage cell lines, but does not induce iNOS or NO synthesis
Zeitschrift:
Autoren:

Mattias Günther, Stefan Plantman, Caroline Gahm, Anders Sondén, Mårten Risling, Tiit Mathiesen
Wichtige Hinweise
Comment
Although the central nervous system (CNS) is considered somehow privileged under the immunologic point of view and poorly influenced by the inflammatory processes, a large body of data suggests a local inflammatory response after traumatic CNS injuries and indicate that aspects of this response to injury amplify the secondary damage [1, 2]. The cardinal features of inflammation, namely infiltration of inflammatory cells (neutrophils, microglia/macrophage, and lymphocytes), release of inflammatory mediators and activation of endothelial cells leading to increased vascular permeability, edema formation, blood–brain cord barrier disjunction and tissue destruction, have extensively been characterized in animal traumatic brain injury models.
The inflammatory response in the central nervous system after trauma may be initiated by neutrophils that infiltrate the lesion site. They can be found in the injury site 3-4 h after injury. The prevalence of neutrophils reaches a maximum 1-3 days after injury and remains significantly increased for up to 10 days. Neutrophils may release a number of substances such as reactive oxygen species, reactive nitrogen radicals, cytokines, chemokines, and a variety of enzymes.
The infiltration of leukocytes into the central nervous system is mediated by specific adhesion molecules present on both endothelial cells and leukocytes. Those molecules, vascular cells adhesion molecules (VCAMs) and inflammatory cells adhesion molecules (ICAMs), may facilitate the cell-to-cell interactions among endothelial, inflammatory, and nervous system cells. Furthermore, the neutrophils' accumulation and activity are modulated by a number of cytokines, such as TNF-α, IL-1, and interleukin-6 (IL-6).
This study confirms some aspects of this process. The authors' findings support the assumption that macrophages/microglia play a pivotal role in TBI secondary damage, but suggest that these cells produce toxic substances such as nitric oxide, only if stimulated by cytokines. These cytokines, at least in the early stage, could be delivered by resident cells including mechanically activated microglia or from few neutrophils present in tissue after injury.
References
1. Conti A, Cardali S, Genovese T, Di Paola R, La Rosa G (2003) Role of inflammation in the secondary injury following experimental spinal cord trauma. J Neurosurg Sci 47:89-94
2. Conti A, Miscusi M, Cardali S, Germano A, Suzuki H, Cuzzocrea S, Tomasello F (2007) Nitric oxide in the injured spinal cord: synthases cross-talk, oxidative stress and inflammation. Brain Res Rev 54:205-218
Alfredo Conti
Messina, Italy
Abstract
Background
Experimental CNS trauma results in post-traumatic inflammation for which microglia and macrophages are vital. Experimental brain contusion entails iNOS synthesis and formation of free radicals, NO and peroxynitrite. Shock wave trauma can be used as a model of high-energy trauma in cell culture. It is known that shock wave trauma causes sub-lytic injury and inflammatory activation in endothelial cells. Mechanical disruption of red blood cells can induce iNOS synthesis in experimental systems. However, it is not known whether trauma can induce activation and iNOS synthesis in inflammatory cell lines with microglial or macrophage lineage. We studied the response and activation in two macrophage cell lines and the consequence for iNOS and NO formation after shock wave trauma.
Methods
Two macrophage cell lines from rat (NR8383) and mouse (RAW264.7) were exposed to shock wave trauma by the Flyer Plate method. The cellular response was investigated by Affymetrix gene arrays. Cell survival and morphological activation was monitored for 24 h in a Cell-IQ live cell imaging system. iNOS induction and NO synthesis were analyzed by Western blot, in cell Western IR-immunofluorescence, and Griess nitrite assay.
Results
Morphological signs of activation were detected in both macrophage cell lines. The activation of RAW264.7 was statistically significant (
p
 < 0.05), but activation of NR8383 did not pass the threshold of statistical significance alpha (
p
 > 0.05). The growth rate of idle cells was unaffected and growth arrest was not seen. Trauma did not result in iNOS synthesis or NO induction. Gene array analyses showed high enrichment for inflammatory response, G-protein coupled signaling, detection of stimulus and chemotaxis. Shock wave trauma combined with low LPS stimulation instead led to high enrichment in apoptosis, IL-8 signaling, mitosis and DNA-related activities. LPS/IFN-ɣ stimulation caused iNOS and NO induction and morphological activation in both cell lines.
Conclusions
Shock wave trauma by the Flyer Plate method caused an inflammatory response and morphological signs of activation in two macrophage cell lines, while iNOS induction appeared to require humoral signaling by LPS/IFN-ɣ. Our findings indicated that direct energy transfer by trauma can activate macrophages directly without humoral mediators, which comprises a novel activation mechanism of macrophages.