01.03.2012 | Ausgabe 3/2012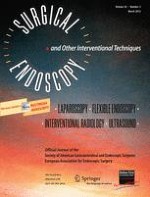 Short esophagus: selection of patients for surgery and long-term results
Zeitschrift:
Autoren:

Luis Durand, Roberto De Antón, Miguel Caracoche, Enrique Covián, Mariano Gimenez, Pedro Ferraina, Lee Swanström
Wichtige Hinweise
Presented at the Organisation mondiale d'Études Spécialisées sur les maladies de l'OEsophage (OESO) Congress, 28–31 August 2010 in Boston, MA, USA.
Abstract
Background
After improvements in antireflux surgery (ARS), a percentage of reherniations still has cause of failure attributed to a reopening of the hiatal closure or to an untreated short esophagus. However, the existence of short esophagus and its treatment results still are matters of debate.
Methods
The consecutive medical records containing prospective collective data for patients with gastroesophageal reflux disease (GERD) during the period 2001–2009 were analyzed retrospectively. Every patient considered to be a candidate for ARS was studied with a dynamic contrast radiologic study (DCRxS) in which the esophageal length was evaluated. The choice of surgical technique takes into account the motility status of the esophagus and its estimated length. In the postoperative period, every patient had a DCRxS and an endoscopy 1 year after surgery and then after 3 years. Satisfaction with the procedure was surveyed.
Results
The consecutive medical records of 437 GERD patients showed that 171 underwent ARS. During the preoperative DCRxS, a short esophagus was suspected in 26 patients. A short esophagus was confirmed for 11 patients (6.4% of the surgically treated patients), and a Collis procedure plus a funduplication was performed. At the preoperative endoscopy, two patients had a normal mucosa, four patients had esophagitis, and five patients had Barrett's esophagus (BE). In the postoperative period, seven patients presented with a healthy mucosa, one BE had disappeared, and the remaining four BEs remained unchanged. During an average follow-up period of 43 months, no reherniations occurred. The 11 patients achieved good symptoms control and would choose surgery again.
Conclusions
Short esophagus can be suspected during preoperative studies, and in this series, it was confirmed in 6.4% of the patients who had surgery. A Collis fundoplication procedure seems to be an adequate operation to control reflux symptoms and to avoid reherniation over the long-term follow-up period.