01.02.2013 | Chinese section | Ausgabe 2/2013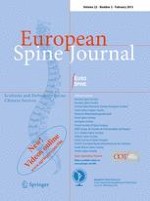 Short-term alendronate treatment does not maintain a residual effect on spinal fusion with interbody devices and bone graft after treatment withdrawal: an experimental study on spinal fusion in pigs
Zeitschrift:
Autoren:

Baoding Huang, Xuenong Zou, Haisheng Li, Qingyun Xue, Cody Bünger
Abstract
Purpose
Whether alendronate treatment has a residual effect on bone ingrowth into porous biomaterial in humans or experimental animals after treatment withdrawal is still unknown. The purpose of this study was to investigate bone ingrowth into porous tantalum and carbon fiber interbody implants after discontinuing alendronate treatment in experimental spinal fusion in pigs.
Methods
Twenty-four pigs were randomly divided into two groups of each 12 pigs. The pigs underwent anterior intervertebral lumbar arthrodeses at L2–3, L4–5 and L6–7. Each level was randomly allocated to one of the three implants: a porous tantalum ring with pedicle screw fixation, a porous tantalum ring or a carbon fiber cage with anterior staple fixation. The central hole of implants was packed with an autograft. Alendronate was given orally for the first 3 months to one of the two groups. The pigs were observed for 6 months postoperatively. Histology and micro-CT scans were done at the endpoint.
Results
The spinal fusion rates of each implant showed no differences between two treatment groups. Furthermore, no differences were found between two groups as for bone ingrowth into the central holes of implants and bone–implant interface in each implant, or as for the pores of tantalum implants. Trabecular bone microarchitecture in the central hole of the carbon fiber cage did not differ between two treatment groups.
Conclusion
The application of ALN, with a dose equivalent to that given to humans during the first 3 months after surgery, does not maintain a residual effect on spinal fusion with porous tantalum ring and autograft after treatment withdrawal in a porcine ALIF model.