05.06.2019 | Original Research | Ausgabe 4/2019 Open Access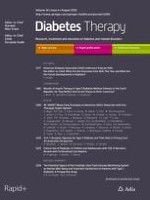 Short-Term Cost-Effectiveness of Switching to Insulin Degludec in Japanese Patients with Type 2 Diabetes Receiving Basal–Bolus Therapy
Zeitschrift:
Autoren:

Jakob Langer, Michael L. Wolden, Seiya Shimoda, Miki Sato, Eiichi Araki
Wichtige Hinweise
Electronic Supplementary Material
Enhanced Digital Features
Abstract
Introduction
With one of the fastest aging populations in the world, demographic changes in Japan are a major public health concern due to the substantial burden that aging-associated diseases, such as type 2 diabetes (T2D), place on public healthcare systems. The aim of this analysis was to evaluate the short-term cost-effectiveness of switching Japanese patients with T2D receiving basal–bolus insulin therapy from their previous basal insulin to insulin degludec (degludec) under conditions of routine clinical practice.
Methods
A previously published, open-source model developed in Microsoft Excel was used to evaluate the cost-effectiveness of switching basal–bolus insulin therapy from patients' previous basal insulin to degludec versus continuing the previous basal insulin therapeutic regimen in terms of costs (2018 Japanese Yen [JPY]) and quality-adjusted life years (QALYs), from a Japanese public healthcare payer perspective. The model captured hypoglycemia rates and insulin dosing over a 1-year time horizon, and was informed by Japanese real-world evidence from the T2D cohort (
N
 = 135) of the Kumamoto Insulin Degludec Observational study.
Results
Treatment with degludec was associated with improved effectiveness (+ 0.0354 QALYs), driven by lower daytime non-severe hypoglycemia rates with degludec, at slightly higher annual treatment costs (JPY 9510) versus continuing the previous basal insulin. Switching basal insulin to degludec was found to be a cost-effective intervention with an incremental cost-effectiveness ratio (JPY 268,811 per QALY gained) substantially below the willingness-to-pay threshold of 5 million JPY per QALY used in the Japanese Health Technology Assessment framework. Sensitivity analyses confirmed the robustness of this finding and indicated that the daytime non-severe hypoglycemia benefit with degludec was a key driver of outcomes in the base case.
Conclusion
Based on Japanese real-world evidence, our analysis suggests that switching Japanese patients with T2D receiving a basal–bolus regimen from their previous basal insulin to degludec would be highly cost-effective. These data may help decision-makers in Japan allocate healthcare resources efficiently.
Trial Registration
The KIDUNA study is registered with the University Hospital Medical Information Network Clinical Trials Registry (UMIN-CTR): UMIN000021569.
Funding
Novo Nordisk Pharma Ltd. Japan.