03.09.2020 | Original Article | Ausgabe 2/2021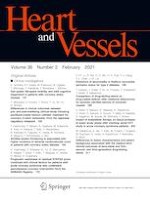 Short-term dual anti-platelet therapy decreases long-term cardiovascular mortality after transcatheter aortic valve replacement
Zeitschrift:
Autoren:

Hirofumi Hioki, Yusuke Watanabe, Ken Kozuma, Akihisa Kataoka, Fumiaki Yashima, Toru Naganuma, Motoharu Araki, Norio Tada, Shinichi Shirai, Futoshi Yamanaka, Kazuki Mizutani, Minoru Tabata, Kensuke Takagi, Hiroshi Ueno, Masanori Yamamoto, Kentaro Hayashida, OCEAN-TAVI Investigators
Wichtige Hinweise
Electronic supplementary material
Publisher's Note
Springer Nature remains neutral with regard to jurisdictional claims in published maps and institutional affiliations.
Abstract
No data are available on extended dual anti-platelet therapy (DAPT) duration which may influence long-term prognosis (later than 1 year) after transcatheter aortic valve replacement (TAVR). Therefore, this study is aimed to evaluate whether discontinuing DAPT within 1 year had an impact on adverse events after TAVR. Using data from the OCEAN-TAVI registry, we assessed 1008 patients who survived the first year after TAVR with DAPT since discharge. Patients were divided into 'DAPT group' (
n
 = 462), comprising patients who took DAPT at both discharge and 1 year, and 'stop-DAPT group' (
n
 = 546), comprising patients who took DAPT at discharge and single anti-platelet therapy (SAPT) at 1 year. We compared the incidence of cardiovascular (CV) death, major and minor bleeding, and ischemic stroke later than 1 year after TAVR between the two groups. A total of 28 CV deaths were observed later than 1 year after TAVR. The stop-DAPT group had a significantly lower incidence of CV death than the DAPT group (1.8% vs. 4.9%, log-rank
P
 = 0.029). Stop DAPT was associated with lower CV death later than 1 year of TAVR in Cox regression analysis (adjusted hazard ratio [HR], 0.46; 95% confidence interval [CI], 0.20–0.99), and in analysis with inverse probability of treatment weighting method using propensity score (adjusted HR, 0.45; 95% CI, 0.20–0.98). Our study demonstrated that switching from DAPT to SAPT within 1 year of TAVR was significantly associated with a lower CV death later than 1 year after TAVR.