01.10.2008 | Original Clinical Article | Ausgabe 5/2008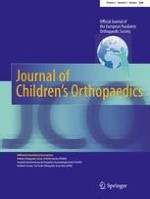 Short-term experience with Ponseti casting and the Achilles tenotomy method for clubfeet treatment in arthrogryposis multiplex congenita
Zeitschrift:
Autoren:

Bartholomew Kowalczyk, Tadeusz Lejman
Abstract
Purpose
This study presents our experience with the Ponseti method of manipulation and casting followed by Achilles tenotomy (AT) in children with arthrogryposis multiplex congenita (AMC).
Methods
Five children (ten feet) were followed for at least 24 months after the AT and are the cohort for this study. Their mean age at follow-up was 38.4 months (26 to 48 months), and the average follow-up period was 35.8 months (24–44 months). Treatment was begun within the first months of life. The AT to correct rigid equinus was performed at a mean of 14.4 weeks of life, after 7–10 cast changes (mean 8.4). Clinical criteria by Niki et al. and standard standing AP and lateral radiographs were analyzed for final evaluation. Efficacy of Ponseti casting and AT tenotomy was assessed according to the amount and continuance of the achieved correction.
Results
Seven feet had clinically satisfactory results. Among the three unsatisfactory feet, there were two (one child) with rocker-bottom pseudocorrections after repeated bilateral AT and one recurrent clubfoot (one child). Six feet required soft tissue releases at 3, 12 and 21 months after the AT due to recurrence of moderate equinus and adductus. Three feet (two children) underwent repeat AT at 10 and 15 months after the primary procedure. The mean interval between initial AT and redo surgical procedures was 11.8 months (range 3–21 months). Two feet (20%) remained without significant deformity after AT.
Conclusion
Clubfoot in AMC responds initially to the Ponseti method of casting, and deformity may be corrected or diminished. In some children, more extensive surgical treatment can be avoided and in others, delayed. Despite the need for additional surgical intervention, the Ponseti method of casting and AT does seem to be an alternative for initial treatment in children with AMC.