01.12.2018 | Research article | Ausgabe 1/2018 Open Access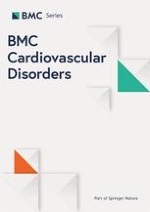 SHP2 inhibitor PHPS1 protects against atherosclerosis by inhibiting smooth muscle cell proliferation
Zeitschrift:
Autoren:

Jia Chen, Zhiyong Cao, Jingshu Guan
Wichtige Hinweise
Electronic supplementary material
Abstract
Background
Smooth muscle cells play an important role in the development of atherosclerosis. SHP2 is known to regulate the proliferation and migration of smooth muscle cells. The purpose of this study was to determine whether the SHP2 inhibitor PHPS1 has a pro-atherosclerotic or an atheroprotective effect in vivo and in vitro.
Methods
After exposure to a high-cholesterol diet for 4 weeks, LDL receptor-deficient (Ldlr−/−) mice were exposed to the SHP2 inhibitor PHPS1 or vehicle. Body weight, serum glucose and lipid levels were determined. The size and composition of atherosclerotic plaques were measured by en face analysis, Movat staining and immunohistochemistry. The phosphorylation of SHP2 and related signaling molecules was analyzed by Western blot. Mechanistic analyses were performed in oxLDL-stimulated cultured vascular smooth muscle cells (VSMCs) with or without 10 mM PHPS1 pretreatment. Protein phosphorylation levels were detected by Western blot, and VSMC proliferation was assessed by BrdU staining.
Results
PHPS1 decreased the number of atherosclerotic plaques without significantly affecting body weight, serum glucose levels or lipid metabolism. Plaque composition analysis showed a significant decrease in the number of VSMCs in atherosclerotic lesions of Ldlr−/− mice treated with PHPS1. Stimulation with oxLDL induced a dose-dependent increase in the number of VSMCs and in SHP2 and ERK phosphorylation levels, and these effects were blocked by PHPS1.
Conclusion
The SHP2 inhibitor PHPS1 exerts a protective effect against atherosclerosis by reducing VSMC proliferation via SHP2/ERK pathway activation.