01.12.2018 | Research article | Ausgabe 1/2018 Open Access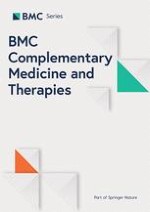 Shuang-Huang-Lian prevents basophilic granulocyte activation to suppress Th2 immunity
Zeitschrift:
Autoren:

Qiaoling Fei, Yixin Han, Ruijuan Qi, Yuan Gao, Lei Fang, Rui Hou, Runlan Cai, Yun Qi
Wichtige Hinweise
Electronic supplementary material
Abstract
Background
Basophilic granulocytes (BGs) not only initiate the induction of Th2 cell differentiation, but also amplify the ongoing Th2 response. Shuang-Huang-Lian (SHL) is clinically used for relieving type I hypersensitivity by continuous treatment for several weeks.
Methods
ELISA, flow cytometry, magnetic activated cell sorting, isoelectric precipitation, hybridoma technique, transfection and luciferase reporter assay were used in this study. The statistical analysis was performed using a one-way ANOVA.
Results
Our recently published study demonstrated that SHL exerted a remarkable effect on mast cell stabilization. Herein, we sought to elucidate the effect of SHL on shrimp tropomyosin (ST)-induced Th2 immunity and its underlying mechanisms. The obtained data showed that continuous treatment with SHL significantly suppressed ST-stimulated Th2-cytokines release and IgE synthesis. A mechanistic study indicated that SHL not only reduced BG early IL-4 release before ST-specific IgE (sIgE) production, but also inhibited BG activation in the presence of sIgE, including suppressing CD200R surface expression and decreasing IL-4 production. Moreover, SHL markedly decreased the cytosolic Ca2+ (Ca2+[c]) level and inhibited the nuclear factor of activated T cells (NFAT) activation in RBL-2H3 cells.
Conclusions
Collectively, SHL potently reduces ST-induced Th2 immunity by inhibiting the BG Ca2+-NFAT pathway and, thus, suppressing the early IL-4 release before sIgE synthesis and inhibiting BG activation in the presence of sIgE. This study provides the pharmacological basis for the clinical use of SHL to relieve type I hypersensitivity by a successive dose regimen.