22.01.2018 | Case Report | Ausgabe 1/2018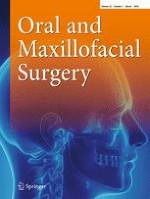 Sialolith removal in the submandibular region using surgical diode laser: report of two cases and literature review
Zeitschrift:
Autoren:

Orion Luiz Haas Jr, Neimar Scolari, Lucas da Silva Meirelles, André Xavier Favoretto, Rogério Belle de Oliveira
Wichtige Hinweise
Electronic supplementary material
Abstract
Purpose
Sialolithiasis is defined as the presence of one or more calcified structures within the duct of a major or minor salivary gland. It occurs as a result of deposition of calcium salts around an accumulation of organic debris in the duct lumen. The main signs and symptoms are edema and bacterial infection with abscess formation.
Methods
This study aimed to report two cases of submandibular sialolithiasis treated surgically with diode laser and conduct a review of the literature by means of a systematic search. In the two cases, the calculi were located in the distal part of the submandibular duct and could be palpated intraorally. Surgery was performed in an outpatient setting under local anesthesia. A linear incision was made in the floor of the mouth, in the region of the opening of Wharton's duct, to expose and remove the calculi. Laser cutting was performed using a diode laser module coupled to a 400-μm optical fiber emitting at a wavelength of 980 nm (infrared), 2.5 W output power, and in continuous pulse mode.
Results
The use of diode laser is a safe and minimally invasive option for this type of procedure.
Conclusion
Offering advantages such as enhanced coagulation properties and high-quality incision, absence of bleeding, low risk of nerve damage, and few comorbidities.