07.04.2016 | Original Article | Ausgabe 10/2016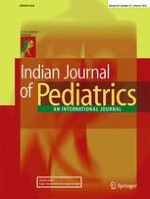 Sickle Cell Disease in Central India: A Potentially Severe Syndrome
Zeitschrift:
Autoren:

Dipty Jain, Vinit Warthe, Paridhi Dayama, Dilip Sarate, Roshan Colah, Pallavi Mehta, Graham Serjeant
Abstract
Objectives
To explore clinical, hematological and molecular features of homozygous sickle cell (SS) disease in central India.
Methods
Focusing on the pediatric age group attending a clinic at the Akola Government Medical College, Akola, Maharashtra State, India, a cross-sectional assessment of 91 patients with sickle cell disease was performed during one week in March 2015.
Results
Of the 91 patients, there were 49 with SS disease, 36 with sickle cell-beta thalassemia, and 6 with sickle cell-HbD Punjab. Alpha globin gene deletions occurred in only 8/49 (16 %) SS disease but fetal hemoglobin (HbF) levels were markedly elevated with mean and median of 24.4 %; all except 3 SS disease patients had the Xmn1(+/+) polymorphism consistent with the Asian haplotype. Among the 36 patients with sickle cell-beta thalassemia, 25 (69 %) had the severe beta+ mutation, IVS1-5 G > C, and seven other molecular mutations, all betao occurred in the other 11 patients. Many patients had a relatively severe clinical course. Comparison of SS disease and sickle cell-beta thalassemia showed no differences in the prevalence of dactylitis, bone pain crisis, acute chest syndrome, hemoglobin level, reticulocyte counts or hydroxyurea usage but patients with sickle cell-beta thalassemia had significantly more blood transfusions, and greater frequencies of splenomegaly and hepatomegaly.
Conclusions
Many patients in central India have relatively severe manifestations. This may result from lower frequencies of alpha thalassemia and more frequent severe sickle cell-beta+ thalassemia. There is a need for assessment of the indications and policies for blood transfusion and for hydroxyurea.