08.12.2018 | Original Article | Ausgabe 5/2019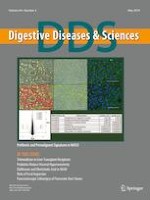 Significant Morbidity and Mortality Associated with Fecal Impaction in Patients Who Present to the Emergency Department
Zeitschrift:
Autoren:

Thomas Sommers, Travis Petersen, Prashant Singh, Vikram Rangan, William Hirsch, Jesse Katon, Sarah Ballou, Vivian Cheng, Daniel Friedlander, Judy Nee, Anthony Lembo, Johanna Iturrino
Wichtige Hinweise
Thomas Sommers and Travis Petersen are co-first authors.
Guarantor of the article: Johanna Iturrino.
Abstract
Background
Fecal impaction (FI) is defined as a large mass of stool in the rectum and/or colon that is unable to be evacuated. No study to date details demographics and outcomes in a sizeable sample of FI patients in the USA.
Aims
The present study aims to develop knowledge of FI by reporting descriptive measures and outcomes of patients presenting to a US emergency department (ED) with FI.
Methods
Medical charts coded with FI at Beth Israel Deaconess Medical Center from 2016 or 2017 were identified retrospectively. Patients diagnosed with FI in the ED or subsequent to direct hospital admission from the ED were included. Patient-specific demographics, visit-specific details, medical and medication histories, and hospital treatment and outcome measures were included in a database and analyzed.
Results
Thirty-two patients (mean age of 72.9 years, 62.5% female) had a total of 42 ED visits with FI. Patients had an average of 8.7 diagnoses and 11.2 medications listed in their charts. 54.8% of patients were taking at least one commonly prescribed constipating medication. The median total length of stay for admitted patients was 3 days, with nearly 90% of the ED visits with FI requiring hospital admission. 40.6% of patients experienced serious FI-related morbidities, and 21.9% of patients with FI died in the hospital.
Conclusion
Patients presenting with FI had high risk of morbidity and mortality, complex medical histories, and large numbers of active treatment regimens. Patients with FI should receive immediate treatment and close monitoring for morbidities and complications.