01.12.2012 | Research | Ausgabe 1/2012 Open Access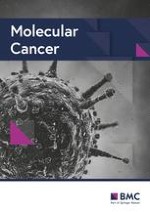 Silencing of a large microRNA cluster on human chromosome 14q32 in melanoma: biological effects of mir-376a and mir-376c on insulin growth factor 1 receptor
Zeitschrift:
Autoren:

Liron Zehavi, Roi Avraham, Aviv Barzilai, Dalia Bar-Ilan, Roy Navon, Yechezkel Sidi, Dror Avni, Raya Leibowitz-Amit
Wichtige Hinweise
Electronic supplementary material
The online version of this article (doi:
10.​1186/​1476-4598-11-44
) contains supplementary material, which is available to authorized users.
Yechezkel Sidi, Dror Avni contributed equally to this work.
Competing interests
There are no financial or non-financial competing interests to declare.
Author contributions
LZ performed the molecular biology and tissue culture experiments; RA performed the micro-array experiments (with LZ); AB and DB performed the experiments with the pathological material; RN performed the bioinformatic and statistical analyses; LZ, YS, DA and RLA designed the experiments, analyzed the data and prepared the manuscript. All authors read and approved the final manuscript.
Abstract
Background
Metastatic melanoma is a devastating disease with limited therapeutic options. MicroRNAs (miRNAs) are small non coding RNA molecules with important roles in post-transcriptional gene expression regulation, whose aberrant expression has been implicated in cancer.
Results
We show that the expression of miRNAs from a large cluster on human chromosome 14q32 is significantly down-regulated in melanoma cell lines, benign nevi and melanoma samples relative to normal melanocytes. This miRNA cluster resides within a parentally imprinted chromosomal region known to be important in development and differentiation. In some melanoma cell lines, a chromosomal deletion or loss-of-heterozygosity was observed in the cis-acting regulatory region of this cluster. In several cell lines we were able to re-express two maternally-induced genes and several miRNAs from the cluster with a combination of de-methylating agents and histone de-acetylase inhibitors, suggesting that epigenetic modifications take part in their silencing. Stable over-expression of mir-376a and mir-376c, two miRNAs from this cluster that could be re-expressed following epigenetic manipulation, led to modest growth retardation and to a significant decrease in migration in-vitro. Bioinformatic analysis predicted that both miRNAs could potentially target the 3'UTR of IGF1R. Indeed, stable expression of mir-376a and mir-376c in melanoma cells led to a decrease in IGF1R mRNA and protein, and a luciferase reporter assay indicated that the 3'UTR of IGF1R is a target of both mir-376a and mir-376c.
Conclusions
Our work is the first to show that the large miRNA cluster on chromosome 14q32 is silenced in melanoma. Our results suggest that down-regulation of mir-376a and mir-376c may contribute to IGF1R over-expression and to aberrant negative regulation of this signaling pathway in melanoma, thus promoting tumorigenesis and metastasis.