13.01.2017 | Case Report | Ausgabe 3/2017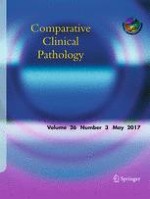 Silymarin and methionine application on treatment of liver chronic diseases by aflatoxicosis in rabbit (
Oryctolagus cuniculi

)—case report
Zeitschrift:
Autoren:

Guilherme Augusto Marietto-Gonçalves, Marianna Bergmann Brito, Eliana Lucia Fiorentin, Alexandre Alberto Tonin
Abstract
This case report describes the treatment of chronic liver disease in rabbit (
Oryctolagus cuniculi
) caused by consumption of feed containing mycotoxin and later treated with silymarin. A young female rabbit was referred to veterinary care with a history of apathy, appetite loss, and difficulty breathing without a clear medical history. The physical examination revealed an increase in the abdominal volume, an observation confirmed by radiographic analysis showing the presence of ascites. Through the serum biochemistry evaluation, it was an evidenced liver disease. After 1 month of treatment, the animal did not present any clinical changes, as well as, it had its hematological and biochemical parameters normalized. The continued use of silymarin along with methionine was effective in the treatment of toxic liver disease by aflatoxin B1 intake in a rabbit, having reversed toxic effects and serum biochemical patterns resettled.