18.08.2017 | Original Article | Ausgabe 3/2017 Open Access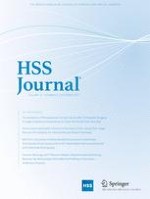 Similar Cost Savings of Bundled Payment Initiatives Applied to Lower Extremity Total Joint Arthroplasty Can Be Achieved Applying Both Models 2 and 3
Zeitschrift:
Autoren:

BS, BA Allyson Alfonso, MPA Lorraine Hutzler, MD Bill Robb, CEBS Chad Beste, PT, STC André Blom, MD Joseph Bosco
Wichtige Hinweise
Electronic supplementary material
The online version of this article (doi:
10.​1007/​s11420-017-9571-7
) contains supplementary material, which is available to authorized users.
Level of Evidence: Level III: Therapeutic Study
Abstract
Background
In an effort to control cost and increase value, Medicare is transitioning from fee-for-service to value-based alternative payment models (APMs). The Bundled Payments for Care Improvement (BPCI) initiative represents one such voluntary APM. BPCI offers four different bundling options: model 1 covers all Diagnosis Related Groups (DRGs) and Models 2–4 cover 48 clinical episodes, including 186 separate DRGs.
Questions/Purposes
The purpose of this investigation is to analyze and compare the cost savings achieved by two different BPCI program participants, provider A and provider B, enrolled in different models of BPCI (Models 2 and 3) for lower extremity joint replacements (LEJRs).
Methods
We analyzed the BPCI cost savings for Medicare Severity-Diagnosis Related Groups (MS-DRGs) 469 and 470 (lower extremity joint replacement) of two different BPCI program participants. One (provider A) participated in Model 2 while the other (provider B) participated in Model 3. Retrospective payments were based upon savings generated by decreased actual expenses reconciled against target pricing for the episode of care in Models 2 and 3.
Results
The Model 2 participant reduced the average cost of all episodes by 18.45%, with all of the savings occurring in the post acute phase. The Model 3 participant reduced episode costs by 16.73%.
Conclusion
Both BPCI providers achieved similar cost savings despite participating in different BPCI models. These cost savings all occurred in the post acute setting. The Model 2 provider achieved post acute savings through decreasing overall discharges to institutional post acute care (PAC) providers and decreasing readmissions, while the Model 3 provider decreased costs largely by decreasing the LOS for the institutional PAC providers and decreasing readmissions.