01.12.2016 | Research article | Ausgabe 1/2016 Open Access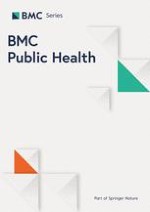 Similarities and differences in underlying beliefs of socio-cognitive factors related to diet and physical activity in lower-educated Dutch, Turkish, and Moroccan adults in the Netherlands: a focus group study
Zeitschrift:
Autoren:

Kristina Romeike, Latifa Abidi, Lilian Lechner, Hein de Vries, Anke Oenema
Abstract
Background
Unhealthy eating patterns and a lack of physical activity (PA) are highly prevalent in most Western countries, especially among lower-educated people, including people of non-Western origin. The aim of this study was to investigate and compare the beliefs and barriers that underlie socio-cognitive and planning constructs related to healthy eating and PA among lower-educated Dutch, Turkish, and Moroccan adults.
Methods
Focus group interviews were conducted with 90 Dutch, Turkish, and Moroccan lower-educated adults between March and August 2012. Five semi-structured group interviews were conducted with Dutch participants, five with Turkish participants, and four with Moroccan participants. Men and women were interviewed separately. The question route was based on the Theory of Planned Behavior and self-regulation theories. The theoretical method used for the qualitative data analysis was content analysis. The interviews were recorded, transcribed, and analyzed by applying the framework approach.
Results
Some participants seemed to lack knowledge of healthy eating and PA, especially regarding the health consequences of an unhealthy lifestyle. Important attitude beliefs concerning healthy eating and PA were taste and health benefits. Participants suggested that social support can encourage the actual performance of healthy behavior. For instance, exercising with other people was perceived as being supportive. Perceived barriers to PA and cooking healthily were a lack of time and tiredness. These previously mentioned beliefs arose in all the ethnic groups. Differences were also found in beliefs between the ethnic groups, which were mainly related to religious and cultural issues. Turkish and Moroccan participants discussed, for example, that the Koran contains the recommendation to eat in moderation and to take care of one's body. Furthermore, they reported that refusing food when offered is difficult, as it can be perceived as an insult. Finally, men and women usually cannot exercise in the same location, which was perceived as a barrier. These factors did not emerge in the Dutch groups.
Conclusions
The same cognitive beliefs were discussed in all three ethnic groups. The importance of cultural and religious factors appeared to be the most significant difference between the Turkish/Moroccan groups and the Dutch groups. Accordingly, interventions for all three ethnic groups should focus on socio-cognitive beliefs, whereas interventions for Turkish and Moroccan populations can additionally take religious and cultural rules into account.