01.12.2018 | Research article | Ausgabe 1/2018 Open Access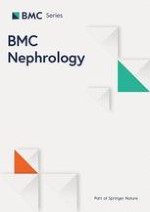 Simple citrate anticoagulation protocol for low flux haemodialysis
Zeitschrift:
Autoren:

Eng Kuang Lim, Ying-ying T Seow, Shun E Chen, Gao Yang, Min Er Liaw, Shimi Isaac
Abstract
Background
For patients unable to receive heparin anticoagulation during haemodialysis, saline flushes to reduce circuit clotting are often the norm. Regional citrate anticoagulation (RCA) although effective is not used by many centres including in Singapore. We wanted to demonstrate the superiority and safety of a simple regional citrate anticoagulation regime, compared to saline flushes, for heparin-free low flux haemodialysis.
Methods
This is a prospective, open label, cross over study on 25 sequential haemodialysis sessions for inpatients receiving heparin-free haemodialysis. Patients were allocated either to regional citrate anticoagulation or standard heparin free haemodialysis and subsequently cross over to the alternate method. RCA was carried out using a protocol derived from previous studies. Assessment of anticoagulation was performed using visual inspection of clot formation in dialysis circuits and post-filter ionized calcium (iCa2+) using point-of-care Ionized calcium device at stipulated intervals. Intravenous Calcium gluconate replacement was given to patients receiving citrate adjusting the rate according to pre-filter iCa2+. Laboratory analyses of electrolytes were also assessed at the start and end of the RCA sessions.
Results
There were no clots in the RCA arm, with 79% (
n
 = 19) in the saline flush arm having some clot, including 1 clotted circuit. Post-filter iCa2+ at various time points were within acceptable range.
Electrolyte readings in the RCA group were all within normal limits except for 4 cases of total Calcium:iCa2+ ratio > 2.5.
Conclusion
RCA is confirmed to be superior to saline flushes for circuit patency. We have a simple and safe protocol that can be followed for low flux haemodialysis.
The study was approved by Singapore National Health Group domain-specific ethnical committee. NHG DSRB reference number 2014/01037.
Trial registration
Trial registration number:
ISRCTN69952745
(registration date 8/11/17).