01.12.2017 | Original research | Ausgabe 1/2017 Open Access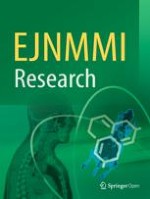 Simple, mild, one-step labelling of proteins with gallium-68 using a tris(hydroxypyridinone) bifunctional chelator: a 68Ga-THP-scFv targeting the prostate-specific membrane antigen
Zeitschrift:
Autoren:

Saima Nawaz, Gregory E. D. Mullen, Kavitha Sunassee, Jayanta Bordoloi, Philip J. Blower, James R. Ballinger
Wichtige Hinweise
Electronic supplementary material
Background
Methods
Results
Discussion
Conclusions
We have shown that the THP bifunctional chelator is potentially a solution to the problem that labelling of proteins with gallium-68 typically entails harsh conditions such as high temperature and acidic pH, as well as post-labelling purification, thus opening the door to kit-based protein labelling with gallium-68. We have produced an scFv variant of the anti-PSMA mAb J591 derivatised with THP that is amenable to simple, rapid, quantitative, one-step room temperature labelling with gallium-68 at neutral pH. The resultant gallium-68 complex shows high affinity for PSMA and can detect PSMA-expressing tumours by PET imaging in vivo.
Acknowledgements
We thank Prof John Maher, Dr. Sophie Papa and Dr. Florian Kampmeier, King's College London, for the assistance with production of J591c-scFv and the DU145-PSMA cell line.
Funding
Saima Nawaz was a recipient of a PhD studentship sponsored by Imaging Equipment Limited, Chilcompton, Somerset BA3 4HP. This research was supported by the Centre of Excellence in Medical Engineering funded by the Wellcome Trust and EPSRC (WT088641/Z/09/Z), by the KCL and UCL Comprehensive Cancer Imaging Centre funded by Cancer Research UK and EPSRC in association with the MRC and DoH (England) and by the NIHR Biomedical Research Centre at Guy's and St Thomas' NHS Foundation Trust and King's College London. PET scanning was performed with equipment purchased with a Wellcome Multi-User Equipment Grant. The views expressed are those of the author(s) and not necessarily those of the NHS, the NIHR or the DoH.
Ethics approval
Animal studies were carried out in accordance with national and local regulations under UK Home Office project and personal licences. This article does not contain any studies with human participants performed by any of the authors.
Competing interests
King's College London holds international patents on tris(hydroxypyridinone) chelators. GEDM is an employee of Theragnostics Ltd. The remaining authors declare that they have no competing interests.
Publisher's Note
Springer Nature remains neutral with regard to jurisdictional claims in published maps and institutional affiliations.
Open Access
This article is distributed under the terms of the Creative Commons Attribution 4.0 International License (
http://​creativecommons.​org/​licenses/​by/​4.​0/​
), which permits unrestricted use, distribution, and reproduction in any medium, provided you give appropriate credit to the original author(s) and the source, provide a link to the Creative Commons license, and indicate if changes were made.