07.02.2018 | Original Article | Ausgabe 2/2019 Open Access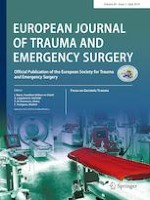 Simultaneous common bile duct clearance and laparoscopic cholecystectomy: experience of a one-stage approach
Zeitschrift:
Autoren:

Shahin Mohseni, John Ivarsson, Rebecka Ahl, Sinan Dogan, Sten Saar, Arvo Reinsoo, Teesi Sepp, Karl-Gunnar Isand, Edvard Garder, Ilmar Kaur, Heiti Ruus, Peep Talving
Abstract
Introduction
The timing and optimal method for common bile duct (CBD) clearance and laparoscopic cholecystectomy remains controversial. Several different approaches are available in clinical practice. The current study presents the experience of two European hospitals of simultaneous laparoscopic cholecystectomy (LC) and intra-operative endoscopic retrograde cholangiopacreatography (IO-ERCP) done by surgeons.
Methods
Retrospective analysis of all consecutive patients subjected to LC + IO-ERCP during their index admission between 4/2014 and 9/2016. Data accrued included patient demographics, laboratory markers, operation time (min) reported as mean (± SD) and hospital length of stay (LOS) reported as median (lower quartile, upper quartile).
Results
During the 29-month study, a total of 201 consecutive LC + IO-ERCPs were performed. The mean age of patients was 55 ± 19 years and 67% were female. The mean intervention time was 105 ± 44 min. The total LOS was 4 (3, 7) days and the post-operative LOS was 2 (1, 3) days. A total of 6 (3%) patients experienced post-interventional pancreatitis and two (1%) patients suffered a Strasberg type A bile leak. All patients were successfully discharged.
Conclusion
Simultaneous LC + IO-ERCP is associated with few complications. Further studies investigating cost-benefit and patient satisfaction are warranted.