01.10.2010 | Original research article | Ausgabe 2/2010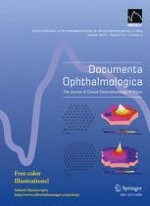 Simultaneous recording of multifocal VEP responses to short-wavelength and achromatic stimuli
Zeitschrift:
Autoren:

Xian Zhang, Min Wang, Donald C. Hood
Wichtige Hinweise
This paper has been presented in ARVO 2009 #6193–Simultaneous Recording of Multifocal Visual Evoked Potentials to Short-Wavelength and Achromatic Stimuli.
Abstract
A paradigm is introduced that allows for simultaneous recording of the pattern-onset multifocal visual evoked potentials (mfVEP) to both short-wavelength (SW) and achromatic (A) stimuli. There were 5 sets of stimulus conditions, each of which is defined by two semi-concurrently presented stimuli, A64/SW (a 64% contrast achromatic stimulus and a short-wavelength stimulus), A64/A8 (64% achromatic/8% achromatic), A0/A8 (0% (gray) achromatic/8% achromatic), A64/A0 and A0/SW. When paired with A64 as part of A64/SW, the SW stimulus yielded mfVEP responses (SWmfVEP) with diminished amplitude in the fovea, consistent with the known sensitivity of the S-cone system. In addition, when A8, which is approximately equal to the L and M cone contribution of the SW stimulus, was recorded alone, the response to A8 was small, but significantly larger than noise. However, when A8 was paired with A64, the response to A8 was reduced to close to noise level, suggesting that the LM cone contribution of the SWmfVEP can be suppressed by A64. When A64 was recorded alone, the response to A64 was about 32% larger than the mfVEP for A64 when paired with the SW. Likewise, the presence of A64 stimulus also reduces the response of SWmfVEP by 35%. Finally, an intense narrow-band yellow background prolonged the latency of SW response for the A0/SW stimulus but not the latency of SW response for the A64/SW stimulus. These results indicate that it is possible to simultaneously record an SWmfVEP with little LM cone contribution along with an achromatic mfVEP.