01.12.2018 | Study protocol | Ausgabe 1/2018 Open Access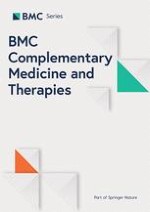 Sinew acupuncture for knee osteoarthritis: study protocol for a randomized sham-controlled trial
Zeitschrift:
Autoren:

Kwok Yin Au, Haiyong Chen, Wing Chung Lam, Chiu On Chong, Andrew Lau, Varut Vardhanabhuti, Kin Cheung Mak, Fei Jiang, Wing Yi Lam, Fung Man Wu, Hiu Ngok Chan, Yan Wah Ng, Bacon Fung-Leung Ng, Eric Tat-Chi Ziea, Lixing Lao
Abstract
Background
Sinew acupuncture is a new modality of acupuncture in which needles are inserted into acupoints, ashi points or spasm points of sinew and muscles along the meridian sinew pathway. A previous observational study revealed that sinew acupuncture has immediate analgesic effects on various soft tissue injuries, including knee injuries. However, no rigorous trials have been conducted. This study aims to examine whether sinew acupuncture can safely relieve pain and symptoms of knee osteoarthritis (KOA) and improve patients' functional movement and quality of life.
Methods/design
A randomized, sham-controlled, patient- and assessor-blinded trial will be conducted to compare the efficacy of sinew acupuncture and sham acupuncture. Subjects will be assessed by the physician and acupuncturists. A sample of eighty-six eligible subjects will be randomized into either the sinew acupuncture group or the sham acupuncture group. The intervention will be performed in the Hong Kong Tuberculosis Association Chinese Medicine Clinic cum Training Centre of the University of Hong Kong by acupuncturists with over 3 years of acupuncture experience. Subjects will receive 10 sessions of interventions for 4 weeks, followed by a 6-week follow-up. The visual analogue scale (VAS) score at week 4 will be the primary outcome. The Western Ontario and McMasters University Osteoarthritis Index (WOMAC), Timed Up & Go Test (TUG), 8-step Stair Climb Test (SCT) and the 36-Item Short Form Survey (SF-36) will be secondary outcomes.
Discussion
Sinew acupuncture is a potential alternative non-pharmacological therapy for KOA. This rigorous trial will expand our knowledge of whether sinew acupuncture reduces pain intensity and improves symptoms, functional movements, and quality of life of KOA patients.
Trial registration
The study was registered at ClinicalTrials.gov (Identifier: NCT03099317) in March 2017.