01.12.2016 | Case report | Ausgabe 1/2016 Open Access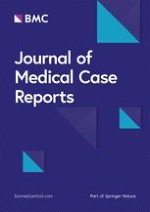 Single-agent MOR208 salvage and maintenance therapy in a patient with refractory/relapsing diffuse large B-cell lymphoma: a case report
Zeitschrift:
Autoren:

Wojciech Jurczak, Agata Hanna Bryk, Patrycja Mensah, Krystyna Gałązka, Małgorzata Trofimiuk–Müldner, Łukasz Wyrobek, Anna Sawiec, Aleksander B. Skotnicki
Wichtige Hinweise
Competing interests
WJ has received research funding from Celgene, Eisai, Gilead, Janssen, Mundipharma, Pharmacyclics, Pfizer, Roche, Sandoz–Novartis, Spectrum, Takeda, AbbVie, and MorphoSys and has served on advisory boards for Janssen, Mundipharma, Sandoz–Novartis, Spectrum, Takeda, Teva, and MorphoSys. AHB, PM, and MT-M received research funding from MorphoSys. The other authors declare that they have no relevant competing interests.
Authors' contributions
All authors contributed to the writing of the paper, and read and approved the final version.
Abstract
Background
Diffuse large B-cell lymphoma is the most common subtype of non-Hodgkin's lymphoma. Standard first-line treatment for this aggressive subtype comprises the anti-CD20 antibody rituximab combined with cyclophosphamide, doxorubicin, vincristine, and prednisone. If patients receiving such treatment have an early relapse, or their disease is initially refractory to such treatment, standard salvage regimens may not be effective. There is therefore a high unmet clinical need for new targeted agents that might improve the outcome for such patients. CD19 is a B-lymphocyte lineage-specific cell surface antigen that is expressed by most B-cell non-Hodgkin's lymphomas. MOR208 is an fragment-crystallizable engineered humanized monoclonal antibody with enhanced antitumor activity that targets CD19 and that may consequently have clinical utility in this setting.
Case presentation
We describe the case of a 33-year-old Caucasian man who presented with a 3-month history of general symptoms and who was admitted to our pulmonology ward with dyspnea due to pneumonia and severe anemia. A histopathological examination of an enlarged right suprasternal lymph node confirmed a diagnosis of T-cell/histiocyte-rich large B-cell lymphoma, an uncommon morphological variant of diffuse large B-cell lymphoma. Our patient had a complete response to first-line rituximab combined with cyclophosphamide, doxorubicin, vincristine, and prednisone, but had an early relapse 5 months after the end of treatment. After intensive salvage therapy consolidated with an autologous stem-cell transplant, our patient again had an early relapse and was subsequently enrolled in a phase IIa trial of single-agent MOR208. Following a scheduled 3 months of weekly treatment, a partial response was confirmed and MOR208 was continued as maintenance therapy, with administration every second week. Positron emission tomography-computed tomography confirmed a complete response 9 months later. This response is ongoing, with a duration of 24 months. MOR208 was well-tolerated by our patient and his quality of life and performance status remain high. No hospitalizations were required and our patient engaged in full-time work and physical activities.
Conclusion
Third-line single-agent therapy with the CD19 antibody MOR208 was highly effective in this patient, despite a history of early relapse after standard first-line and second-line treatment regimens. These data provide support for future randomized studies of MOR208.