01.12.2018 | Research article | Ausgabe 1/2018 Open Access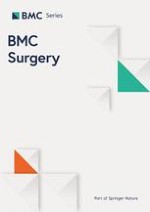 Single center experience with laparoscopic adrenalectomy on a large clinical series
Zeitschrift:
Autoren:

Giovanni Conzo, Claudio Gambardella, Giancarlo Candela, Alessandro Sanguinetti, Andrea Polistena, Guglielmo Clarizia, Renato Patrone, Francesco Di Capua, Chiara Offi, Mario Musella, Sergio Iorio, Giseppe Bellastella, Daniela Pasquali, Annamaria De Bellis, Antonio Sinisi, Nicola Avenia
Abstract
Background
Laparoscopic adrenalectomy is considered the gold standard technique for the treatment of benign small and medium size adrenal masses (<6 cm), due to low morbidity rate, short hospitalization and patient rapid recovery. The aim of our study is to analyse the feasibility and efficiency of this surgical approach in a broad spectrum of adrenal gland pathologies.
Methods
Pre-operative, intra-operative and post-operative data from 126 patients undergone laparoscopic adrenalectomy between January 2003 and December 2015 were retrospectively collected and reviewed. Diagnosis was obtained on the basis of clinical examination, laboratory values and imaging techniques. Doxazosin was preoperatively administered in case of pheochromocytoma while spironolactone and potassium were employed to treat Conn's disease. Laparoscopic adrenalectomies were all performed by the same surgeon (CG). First 30 procedures were considered as learning curve adrenalectomies.
Results
One hundred twenty-six patients were included in the study. Functioning tumors were diagnosed in 84 patients, 27 patients were affected by pheochromocytomas, 29 by Conn's disease, 28 by Cushing disease. Surgery mean operative time was 137.33 min (range 100–180) during the learning curve adrenalectomies and 96.5 min (range 75–110) in subsequent procedures. Mean blood loss was respectively 160.2 ml (range 60–280) and 90.5 ml (range 50–200) in the first 30 procedures and the subsequent ones. Only one conversion to open surgery occurred. No post-operative major complications were observed, while minor complications occurred in 8 patients (0,79%). In 83 out of 84 functioning neoplasms, laparoscopic adrenalectomy was effective in normalization of endocrine profile.
Conclusions
Laparoscopic adrenalectomy is a safe and feasible procedure, even for functioning masses and pheochromocytomas. A multidisciplinary team including endocrinologists, endocrine surgeons and anaesthesiologists, is recommended in the management of adrenal pathology, and adrenal surgery should be performed in referral high volume centers. A thirty-procedures learning curve is recommended to improve surgical outcomes.