11.01.2017 | Original Research | Ausgabe 1/2017 Open Access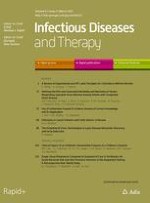 Single-Dose Oritavancin Compared to Standard of Care IV Antibiotics for Acute Bacterial Skin and Skin Structure Infection in the Outpatient Setting: A Retrospective Real-World Study
Zeitschrift:
Autoren:

Patrick J. Anastasio, Pete Wolthoff, Annmarie Galli, Weihong Fan
Abstract
Introduction
Cost-containment strategies are shifting the treatment of acute bacterial skin and skin structure infections (ABSSSI) from inpatient to outpatient settings. Current standard of care (SoC) requires multiple-dose regimens, which are associated with high hospitalization rates and high costs. Oritavancin, a new single-dose antibiotic for ABSSSI, may be suitable for outpatient therapy. This analysis evaluates the effectiveness, costs, and resource utilization of oritavancin vs. SoC in a real-world, outpatient setting.
Methods
A single-site, retrospective chart review was conducted of 118 adult patients diagnosed with ABSSSI and treated with either single-dose oritavancin or multi-dose SoC therapy between 6 August 2014 and 30 June 2015. Patients were assigned to two matched cohorts: oritavancin and SoC. Primary clinical effectiveness endpoints was the success (cured or improved) at 5–30 days after the course of antibiotic therapy has been completed. Secondary economic endpoints were total costs and healthcare resource utilization.
Results
Oritavancin showed comparable clinical effectiveness vs. multi-dose SoC in the outpatient setting. A similar percentage of patients in the oritavancin (90.2%) and SoC cohorts (77.4%) achieved successful outcomes ("cure" or "improved"), with the cure rate higher for oritavancin (73.2%) vs. SoC (48.4%;
P
= 0.0315). Oritavancin's clinical effectiveness was consistent across patient subgroups with varying demographic, clinical, and ABSSSI characteristics. Oritavancin was consistently associated with lower costs (per-patient savings $2319) and reduced resource utilization measures, and it required just 1.0 day of therapy vs. 7.2 days for SoC.
Conclusion
Oritavancin is well suited for the outpatient treatment of ABSSSI. Compared with SoC, oritavancin offers comparable effectiveness, is more economical, and requires fewer healthcare resources.