01.01.2012 | Original Article | Ausgabe 1/2012 Open Access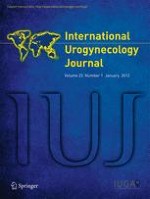 Single-incision vaginal approach to treat cystocele and vault prolapse with an anterior wall mesh anchored apically to the sacrospinous ligaments
Zeitschrift:
Autoren:

Robert D. Moore, Gretchen K. Mitchell, John R. Miklos
Abstract
Introduction and hypothesis
The safety and early efficacy of a new technique to treat cystocele and/or concomitant apical prolapse through a single vaginal incision with a lightweight mesh anchored apically bilaterally to the sacrospinous ligaments is reported.
Methods
Women with anterior compartment and/or apical prolapse ≥stage II underwent repair through a single anterior vaginal wall incision with the Anterior Elevate System (AES). The technique utilizes a lightweight (24 g/m2) type I mesh anchored to the sacrospinous ligaments via two mesh arms with small self-fixating tips. The bladder neck portion of the graft is anchored to the obturator internus with similar self-fixating tips. The apical portion of the graft is adjustable to vaginal length prior to locking in place. Outcome measures included prolapse degree at last follow-up visit, intra/post-operative complications, and QOL assessments.
Results
Sixty patients were implanted with average follow-up of 13.4 months (range 3–24 months). Mean pre-op Ba was +2.04 ± 1.3 and C −2.7 ± 2.9. Average blood loss was 47 cc and average hospital stay was 23 h. Sixty-two percent of patients had concomitant sling for SUI. Mean post-op Ba is −2.45 ± 0.9 and C −8.3 ± 0.9. There was no statistical difference in pre- to post-op TVL. Objective cure rate at current follow-up is 91.7% (≤stage 1). To date, there have been no mesh extrusions. No patients have reported significant buttock or leg pain. No patients have required surgical revision for any reason.
Conclusion
The AES is a minimally invasive technique to treat anterior compartment and/or apical prolapse through a single vaginal incision. Initial results show the procedure to be safe and early efficacy is promising. Longer-term follow-up is ongoing.