01.12.2017 | Research | Ausgabe 1/2017 Open Access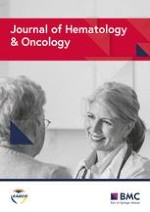 Single- or double-unit UCBT following RIC in adults with AL: a report from Eurocord, the ALWP and the CTIWP of the EBMT
Zeitschrift:
Autoren:

Frédéric Baron, Annalisa Ruggeri, Eric Beohou, Myriam Labopin, Mohamad Mohty, Didier Blaise, Jan J Cornelissen, Patrice Chevallier, Guillermo Sanz, Eefke Petersen, Bipin N Savani, Eliane Gluckman, Arnon Nagler
Wichtige Hinweise
Electronic supplementary material
The online version of this article (doi:
10.​1186/​s13045-017-0497-9
) contains supplementary material, which is available to authorized users.
The study has been partly presented orally at the EHA 2016 meeting in Copenhagen.
Abbreviations
ALL
Acute lymphoblastic leukemia
CBT
Umbilical cord blood transplantation
dCBT
Double-unit cord blood transplantation
EBMT
European Society for Blood and Marrow Transplantation
GRFS
GVHD-free, relapse-free survival
GVHD
Graft-versus-host disease
RIC
Reduced-intensity conditioning
sCBT
Single-unit cord blood transplantation
TBF
Conditioning regimen combining thiotepa, busulfan and fludarabine
TCF
Conditioning regimen combining TBI, cyclophosphamide and fludarabine
Background
Allogeneic umbilical cord blood transplantation (CBT) is a treatment option for many patients with acute myeloid (AML) or acute lymphoblastic (ALL) leukemia who lack an HLA-matched donor [
1
–
4
]. In the last two decades, the development of reduced-intensity conditioning (RIC) regimens for CBT has allowed extending its use to patients who were deemed ineligible for myeloablative (MAC) conditioning because of older age or medical comorbidities [
5
–
11
]. We recently compared outcomes of AML or ALL patients given CBT after RIC (
n
 = 415) versus MAC (
n
 = 479) regimens. We observed that, in comparison to MAC patients, RIC recipients had a higher incidence of disease relapse and a lower nonrelapse mortality (NRM), translating to comparable leukemia-free (LFS), GVHD-free, relapse-free survival (GRFS), and overall (OS) survival [
11
].
Previous studies have demonstrated poor outcomes in patients receiving CB graft containing <2.5 × 10
7
total nucleated cells (TNC) per kilogram at cryopreservation, particularly in the presence of human leukocyte antigen (HLA)-mismatches [
12
]. Unfortunately, many adult patients lack a sufficiently rich CB unit to allow safe CBT. Based on these observations, the Minnesota group pioneered the infusion of two CB units from different partially HLA-matched donors (dCBT) for patients who lack a sufficiently rich single CB unit [
13
]. Based on preliminary encouraging results, this approach has been extended to patients who had a single CB unit containing >2.5 × 10
7
total nucleated cells (TNC) per kilogram at cryopreservation [
14
]. This has been particularly the case in the setting of RIC-CBT since it was hypothesized that in comparison with single CBT, double CBT might promote engraftment and increase graft-versus-leukemia effects [
15
]. The later might be due at least in part via graft-versus-graft alloreactivity as recently demonstrated [
16
].
In a previous study, we compared transplantation outcomes of adult AML or ALL patients transplanted with one single CB or two CB units after myeloablative conditioning regimen (
n
 = 239) [
17
]. Among patients transplanted with one single CB unit (sCBT), those receiving a thiotepa, busulfan, and fludarabine (TBF) regimen had better LFS than those transplanted with busulfan- or total body irradiation (TBI)-based regimens. When the sCBT group was restricted to patients given TBF-based conditioning, transplantation outcomes were comparable between patients receiving sCBT or dCBT, with the exception for a higher incidence of grade II–IV acute GVHD in dCBT recipients. Similarly, two recent prospective randomized studies demonstrated that dCBT following myeloablative conditioning failed to improve transplantation outcomes in comparison to sCBT in children and/or young adult patients who had a sufficiently rich single CB unit [
18
,
19
].
In the current registry study, we investigated whether these observations remained true in the setting of adults after RIC CBT, which depends primarily on engraftment of donor immune cells and on graft-versus-leukemia effects for disease eradication.
Methods
Data collection
This survey is a retrospective, multicenter registry-based study performed by the Acute Leukemia Working Party (ALWP) of the European Society for Blood and Marrow Transplantation (EBMT) and by Eurocord. EBMT registry is a voluntary working group of more than 500 transplant centers, participants of which are required once a year to report all consecutive stem cell transplantations and follow-up. Audits are routinely performed to determine the accuracy of the data. Eurocord collects data on CBT performed in >50 countries worldwide and >500 transplant centers, mainly EBMT centers. Inclusion criteria were adult (≥18 years) patients, AML or ALL, complete remission (CR) at the time of transplantation, first single (with a cryopreserved TNC ≥2.5 × 10
7
/kg) or double CBT between 2004 and 2014, and RIC conditioning. RIC was defined as use of fludarabine associated with <6 Gy TBI, or busulfan ≤8 mg/kg, melphalan ≤140 mg/m
2
or other nonmyeloablative drugs, as previously reported [
11
,
20
,
21
]. HLA-compatibility requirements followed the current practice of antigen level typing for HLA-A and -B and allele level typing of HLA-DRB1. CB units were 4–6/6 HLA-A, -B, and -DRB1 matched to the recipient and to the other unit in case of dCBT in most patients. However, more recently, some centers are no longer matching the CB units between them with regard to HLA based on the study by Avery et al. [
22
]. HLA disparities between each unit and the recipient and between the two units were not necessarily at the same loci. Grading of acute and chronic GVHD was performed using established criteria [
23
].
For the purpose of this study, all necessary data were collected according to EBMT and Eurocord guidelines.
Statistical analyses
Data from all patients meeting the inclusion/exclusion criteria were included in the analyses. Start time was date of transplant for all endpoints. Neutrophil engraftment was defined as first of three consecutive days with a neutrophil count of at least 0.5 × 10
9
/L. Platelet engraftment was defined as the first of seven consecutive days of an unsupported platelet count of at least 20 × 10
9
/L [
2
].
To evaluate the relapse incidence, patients dying either from direct toxicity of the procedure or from any other cause not related to leukemia were censored. NRM was defined as death without experiencing disease recurrence. Patients were censored at the time of relapse or of the last follow-up. Cumulative incidence functions were used for relapse incidence and NRM in a competing risk setting since death and relapse were competing together.
For estimating the cumulative incidence of chronic GVHD, death was considered as a competing event. OS and LFS were estimated using the Kaplan-Meier estimates. GRFS was defined as being alive with neither grade III–IV acute GVHD, severe chronic GVHD nor disease relapse [
24
]. Univariate analyses were done using Gray's test for cumulative incidence function and log rank test for OS and LFS. Associations between single or double CBT and transplantation outcomes (chronic GVHD, relapse, NRM, LFS, and OS) were evaluated in multivariable analyses, using Cox proportional hazards. Variables introduced in the Cox models included recipient age (in decades), disease type (AML versus ALL), disease status at CBT, type of conditioning regimen (TBI, fludarabine, and cyclophosphamide (TCF) versus other), cytogenetic risk, and the use of ATG or not. Exploratory analyses of the heterogeneity of sCBT versus dCBT among pre-transplant subgroups for relapse, NRM, OS, LFS, and GRFS were performed using Cox models. The results of these Cox models were presented graphically using forest plots [
25
].
All tests were two sided. The type I error rate was fixed at 0.05 for determination of factors associated with time to event outcomes. Statistical analyses were performed with SPSS 19 (SPSS Inc., Chicago, IL), and R 2.13.2 (R Development Core Team, Vienna, Austria) software packages.
Results
Discussion
Conclusions
In summary, we observed comparable outcomes in patients given dCBT or sufficiently rich sCBT with a TNC dose at cryopreservation >2.5 × 10e7/Kg. Recent advances in the field of CBT expansion are likely to improve outcomes of RIC sCBT [
50
].
Acknowledgements
We thank Emmanuelle Polge and Audrey Mailhol from the office of the ALWP of EBMT and Chantal Kenzey and Fernanda Volt from the Eurocord study office. FB is a Senior Research Associate at the National Fund for Scientific Research (FNRS), Belgium.
Availability of data materials
AR, EB, ML, MM, and AN had full access to all the data in the study (available upon data specific request).
Authors' contributions
FBa wrote the manuscript, designed the study, and interpreted the data. AR, EB, and ML designed the study, analyzed and interpreted the data, and edited the manuscript. EG and AN designed the study, interpreted the data, and edited the manuscript. MM and BS helped in the study design and edited the manuscript. DB, JC, PC, GS, and EP reviewed the manuscript and provided clinical data. All authors approved the final version of the manuscript.
Competing interests
The authors declare that they have no competing interests.
Consent for publication
Not applicable.
Ethics approval and consent to participate
The scientific boards of the ALWP of EBMT and of Eurocord approved this study.
Institutions
The EBMT registry is a voluntary working group of more than 500 transplant centers, participants of which are required once a year to report all consecutive stem cell transplantations and follow-up. The list of institutions reporting data included in this study is provided in the supplemental data.
Supplementary information is available at the Journal's website.
Publisher's Note
Springer Nature remains neutral with regard to jurisdictional claims in published maps and institutional affiliations.
Open Access
This article is distributed under the terms of the Creative Commons Attribution 4.0 International License (
http://​creativecommons.​org/​licenses/​by/​4.​0/​
), which permits unrestricted use, distribution, and reproduction in any medium, provided you give appropriate credit to the original author(s) and the source, provide a link to the Creative Commons license, and indicate if changes were made. The Creative Commons Public Domain Dedication waiver (
http://​creativecommons.​org/​publicdomain/​zero/​1.​0/​
) applies to the data made available in this article, unless otherwise stated.