28.04.2016 | Endoluminal Surgery | Ausgabe 12/2016 Open Access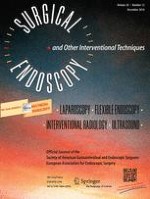 Single-stage management with combined tri-endoscopic approach for concomitant cholecystolithiasis and choledocholithiasis
Zeitschrift:
Autoren:

Fujing Lv, Shutian Zhang, Ming Ji, Yongjun Wang, Peng Li, Wei Han
Abstract
Objective
The aim of this study was to investigate the value of a single stage with combined tri-endoscopic (duodenoscopy, laparoscopy and choledochoscopy) approach for patients with concomitant cholecystolithiasis and choledocholithiasis.
Methods
Fifty-three patients with combined gallbladder stones and common bile duct stones from February 2014 to April 2015 were randomized assigned to two groups: 29 patients underwent single-stage surgery with combined duodenoscope, laparoscope and choledochoscope (combined tri-endoscopic group), and 29 patients underwent endoscopic sphincterotomy to remove common bile duct stones followed by laparoscopic cholecystectomy several days later (control group). The success rate of complete stone removal, procedure-related complication, hospital stay and the cost of hospitalization were compared between the two groups.
Results
Altogether, 53 patients (29 patients in combined tri-endoscopic group and 24 patients in control group) successfully underwent the surgery and ERCP procedure. Three patients in the control group developed post-ERCP pancreatitis. One case of bile leaking and one case of residual stone were noted in the combined tri-endoscopic group. There were no significant differences between the two groups with regard to both complete stone removal [96.6 % (28/29) vs. 100 % (24/24)] and procedure-related complication rate [3.4 % (1/29) vs. 12.5 % (3/24)] (
p
> 0.05). No open surgery was required in either group. There were significant differences between the two groups with regard to hospital stay (6.72 ± 1.3 days vs. 10.91 ± 1.6 days,
p
< 0.01) and cost of hospitalization (15,724 ± 1613 CNY vs. 19,829 ± 2433 CNY,
p
< 0.05).
Conclusion
The single-stage combined tri-endoscopic approach for concomitant cholecystolithiasis and choledocholithiasis was just as safe and successful as the control group. In addition, it resulted in a shorter hospital stay and less cost.