24.10.2017 | Original Paper | Ausgabe 3/2018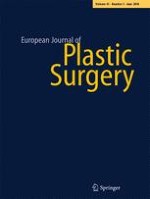 Single-stage reconstruction of combined hypopharyngeal and anterior neck skin defects with the dual-paddle anterolateral thigh flap
Zeitschrift:
Autoren:

David S. Sparks, Harley Myers, Damien Grinsell
Abstract
Background
The 'dual-paddle' anterolateral thigh (dpALT) flap has recently emerged as a single-stage reconstructive option for complex defects arising in the setting of pharyngolaryngectomy. We describe our technique, reflect on our initial experience and review this with reference to outcomes reported in the literature for the dpALT flap.
Methods
A single surgeon, multi-site retrospective study was performed for patients managed with a dpALT for combined hypopharyngeal and anterior neck defects. A standardised approach was devised for preoperative flap planning, harvest and inset. Peri-operative details were appraised and key outcome measures were assessed with particular reference to long-term anatomical and functional endpoints such as fistula and stricture formation, diet tolerability and speech intelligibility. A systematic review of the literature was also performed to identify all studies previously reporting outcomes for the dpALT in hypopharyngeal reconstruction.
Results
Seven patients received dpALT reconstruction for combined defects of the hypopharynx and anterior neck between 2009 and 2016. All flaps survived and five patients received the dpALT for a tubular reconstruction of the hypopharynx with two patches performed. Median follow-up was 27.4 months with no reported fistulas and a single case of stricture formation. Regular oral diet was achieved in six patients and alaryngeal speech was intelligible in all seven patients.
Conclusions
We report a high success rate with the dpALT flap for extensive hypopharyngeal defects that include an anterior neck skin component. The dpALT adds further to the armamentarium available to the reconstructive surgeon for complicated defects within the head and neck.
Level of Evidence: Level IV, therapeutic study.