01.12.2018 | Case report | Ausgabe 1/2018 Open Access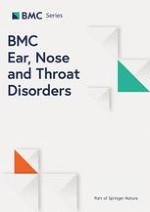 Sinonasal adenoid cystic carcinoma-role of on-site FNAC: a case report
Zeitschrift:
Autoren:

Santosh Tummidi, Kanchan Kothari, Roshni Patil, Shruti S. Singhal, Vyoma Shah
Abbreviations
BSCC
Basaloid squamous cell carcinoma
CD
Clusters of differentiation
CEA
Carcino-embryonic antigen
EMA
Epithelial membrane antigen
FNAC
Fine needle aspiration cytology
GFAP
Glial fibrillary acidic protein
MDCT
Multiple detector computed tomography
PLGA
Polymorphous low-grade adenocarcinoma
SNUC
Sinonasal undifferentiated carcinoma
Background
Adenoid cystic carcinoma is a rare malignant tumour, accounting for 1-2% of all sinonasal malignant tumours & representing < 0.15% of all malignant head and neck tumours, regardless of site and histology [
1
,
2
].
SNACC is locally destructive and can show perineural/perivascular spread, resulting in a high rate of recurrence despite aggressive surgical resection, sometimes as late as 10-20 years after initial management [
3
]. FNA can be done form any accessible site in the head and neck region. It is an accurate and cost-effective process with a quick turn-around time. We found limited studies in literature regarding role of FNA in the diagnosis of sinonasal tract neoplasms [
2
–
4
]. Cytological diagnosis of SNACC can help in early diagnosis, treatment and prevention of recurrence. We report a case of ACC of nasal cavity and paranasal sinus in a 71-year-old lady diagnosed on cytology.
Case presentation
A 71-year female, presented to our outpatient department with complaints of swelling over dorsum of nose since 4-5 months. She had a history of fall with sudden increase in size in the last 2 months. There were no ocular complaints i.e. diplopia, discharge, redness or itching in her eyes. She was a known case of hypertension under treatment since 2 years. ENT examination revealed absence of air blast on both sides. External examination showed a small cystic swelling over root of nose extending to mid portion of nose (Fig.
1a, b
). Anterior rhinoscopy revealed a mass occluding both nasal cavities, with mild maxillary and ethmoid tenderness. CT scan of paranasal sinuses revealed a moderately large mass lesion involving the nasal cavity with bony destruction of nasal septum, multiple inter-ethmoid bony septae and nasal turbinates with bony thinning and deossification of a part of the hard palate, nasal bones and medial wall of the maxillary sinuses. The mass measured approximately 5.7 × 4.7 × 3.3 cm (Fig.
1c, d, e
). A small component of this lesion was entering the subcutaneous tissue on the left side of the nasal bridge through a defect in the bone, for which she was referred for fine needle aspiration.
×
FNA was done using 23-gauge needle and smears were stained with PAP, Geimsa & toluidine blue. Cytosmears were very cellular with clusters of cells which were small, basaloid with hyperchromatic nuclei & very scant cytoplasm. Nuclear moulding was seen at many places. Seen amidst the tumor cells were rounded globules and finger like projections of uniform hyaline material that stained magenta on Geimsa. Occasional clusters of histiocytes were seen. A few papillaroid fragments with central fibro vascular core were also noted (Figs.
2
and
3
). A cell block was made and it revealed a cribriform pattern with basaloid cells rimming hyaline globules. C-kit IHC was done on the cell block material and it showed strong and diffuse positivity (Figs.
3c, d
and
4
) Thus, a diagnosis of a sinonasal malignant salivary gland type neoplasm - adenoid cystic carcinoma was given.
×
×
×
Discussion
Conclusion
SNACC tumours are rare. Cytology along with ICC can help in early diagnosis and treatment of SNACC, especially in tumors which have extended to the soft tissue thus making them amenable to aspiration. Biopsy can play a role in cases where FNAC material is limited or non-accessible sites. Surgery in combination with postoperative radiation provides better overall survival rate. Chemotherapy still has not been proven effective in the treatment of this disease.
Availability of data and materials
All the data regarding the findings are available within the manuscript.
Ethics approval and consent to participate
Permission for publication of this case was obtained by Institutional Ethics Committee, Seth GSMC & KEMH, Mumbai.
Consent for publication
Written informed consent was taken from the patient for publication and any accompanying images.
Competing interests
The authors declare that they have no competing interests.
Publisher's Note
Springer Nature remains neutral with regard to jurisdictional claims in published maps and institutional affiliations.
Open Access
This article is distributed under the terms of the Creative Commons Attribution 4.0 International License (
http://​creativecommons.​org/​licenses/​by/​4.​0/​
), which permits unrestricted use, distribution, and reproduction in any medium, provided you give appropriate credit to the original author(s) and the source, provide a link to the Creative Commons license, and indicate if changes were made. The Creative Commons Public Domain Dedication waiver (
http://​creativecommons.​org/​publicdomain/​zero/​1.​0/​
) applies to the data made available in this article, unless otherwise stated.