27.11.2018 | Sine qua non Radiology-Pathology | Ausgabe 1/2020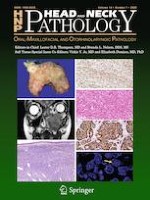 Sinonasal Myxoma: A Distinct Lesion of Infants
Zeitschrift:
Autoren:

Parth Mewar, Karen E. González-Torres, T. Matthew Jacks, Robert D. Foss
Wichtige Hinweise
Disclaimer
The views expressed in this manuscript are those of the author and do not reflect the official policy of the Department of Army/Navy/Air Force, Department of Defense, or U.S. Government. I certify that all individuals who qualify as authors have been listed; each has participated in the conception and design of this work, the writing of the document, and the approval of the submission of this version; that the document represents valid work; that if we used information derived from another source, we obtained all necessary approvals to use it and made appropriate acknowledgements in the document; and that each takes public responsibility for it. We are military Service Members. This work was prepared as part of our official duties. Title 17 U.S.C. 105 provides that 'Copyright protection under this title is not available for any work of the United States Government.' Title 17 U.S.C. 101 defines a United States Government work as a work prepared by a military Service Member or employee of the United States Government as part of that person's official duties.
Abstract
An 11 month old Caucasian male presented with swelling of the right side of the nose and buccal vestibule of unknown duration. Radiographic images revealed a well-circumscribed, hypodense soft tissue mass with a peripheral hyperdense circumference involving the anterior aspect of the right maxilla. The lesion extended from the inferior aspect of the orbital rim superiorly to the maxillary bone inferiorly without invading any nearby structures. The lesion was completely resected via combined extraoral and intraoral approach. The clinical, radiographic, histologic and immunohistochemical features of a sinonasal myxoma in an infant are discussed.