16.08.2019 | Originalien | Ausgabe 4/2019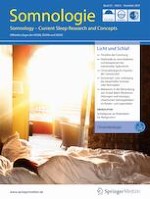 Sleep disturbances and their co‑occurrence with emotional and behavioural problems in elementary school children
A network analysis
Zeitschrift:
Autor:

Igor A. Kelmanson
Abstract
Background
Sleep disturbances are likely to be associated with emotional and behavioural problems in children.
Aim
The goal was to evaluate co-occurrences between sleep disturbances and behavioural and emotional problems in elementary school children by means of network analysis.
Patients and methods
The study was performed in St. Petersburg in 2017 and comprised 186 typically developing children (92 boys, 94 girls) aged 6 to 8 (median 7) years. The mothers were requested to fill in the Child Sleep Habit Questionnaire (CSHQ) aimed to measure certain sleep troubles in children. The teachers were approached with the Achenbach Teacher Report Form for Ages 6–18 years aimed to find major emotional and behavioural disturbances. The EBICglasso (Extended Bayesian Information Criterion graphical least absolute shrinkage and selection operator) algorithm was used to estimate a regularized graphical model and to find the most important associations.
Results
There were 14 nodes in the network with 26 non-zero edges. Some variables had strong connections. The daytime sleepiness scale had the highest betweenness score (normalized value 2.54), and it bridged sleep problems and the signs of emotional/behavioural disturbances. Other variables with high betweenness scores were parasomnias (normalized value 1.14), acting as the bridge that connects other features of sleep problems, and depressive problems (normalized value 1.46), bridging the nodes related to emotional/behavioural disturbances. These clinical signs may play important roles in the network and should be regarded cautiously as possible indicators of co-occurring sleep and emotional disturbances.
Conclusion
Network analysis offers the potential for insight into structural relationships among core psychological processes related to sleep disturbances in children.