01.12.2018 | Case report | Ausgabe 1/2018 Open Access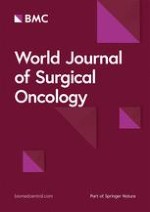 Small bowel lymphoma presenting as inguinal hernia: case report and literature review
Zeitschrift:
Autoren:

Michele Teodoro, Maurizio Mannino, Marco Vitale, Edoardo Mattone, Valentina Palumbo, Filippo Fraggetta, Adriana Toro, Isidoro Di Carlo
Abbreviations
PGI NHL
Primary gastrointestinal non-Hodgkin's lymphoma
Background
Inguinal hernia is one of the most common benign pathologies that primarily affects men; surgical hernia repair procedures account for approximately 2 million surgical cases annually worldwide, with 850,000 of those performed in the USA [
1
].
The small bowel [
2
] is the second leading site, after the stomach [
3
], for primary gastrointestinal non-Hodgkin's lymphoma (PGI NHL). It commonly causes abdominal pain, changes in bowel habits, weight loss, a palpable abdominal mass and blood in the stool [
4
]. The most common histological subtype of PGI NHL is diffuse large B cell lymphoma, for which systemic chemotherapy with rituximab is the most common treatment [
3
].
Here, we report a rare case in which these two conditions co-exist and their treatment.
Case presentation
An 85-year-old male was admitted to the hospital complaining of an approximate 1 month of
bowel
movement pattern change, abdominal distension and loss of weight, without vomiting but with nausea. Clinical examination revealed abdominal distension (Fig.
1
A) and diffuse tenderness without signs of peritonitis. The patient had no lymphadenopathy, his pulse rate was 85 beats/min and his blood pressure was 105/60 mm/Hg. There was a large, painful and non-reducible swelling in the right inguinoscrotal region that was firm in consistency (Fig.
1
B). His total WBC count was 13.900/mm
3
, and his neutrophil count was 96.9%. A computed tomographic scan of the abdomen showed a small bowel obstruction caused by a migration of a small bowel loop in the right inguinal canal, with full-thickness expansion of the bowel wall (Fig.
2
). The patient was taken to the operating room for surgery, and because the CT scan showed a mass firmly adherent to the inguinal canal, an abdominal approach was chosen for the possibility of an ileal resection.
×
×
On exploration, fluid was found in the peritoneal cavity, and the ileal loop was lodged within the interior inguinal ring. A combined inguinal approach was deemed necessary. On exploration, a small bowel mass firmly adherent to and inseparable from the testicle was found. A bowel resection including the mass and the testicle was performed (Fig.
3
). An ileo-ileal latero-lateral anastomosis was performed. Then, a Shouldice herniorrhaphy was performed. We decided to perform a herniorrhaphy without mesh use to avoid the risk of infectious complications. No complications in the post-operative period were recorded. The histopathological report showed small bowel large B cell non-Hodgkin's lymphoma. The tumour was present up to the submucosa (Figs.
4
and
5
). After discharge, the patient was referred to the Haematology Department for further treatment.
×
×
×
Discussion and conclusion
In conclusion, this case report suggests that when the diagnosis of the contents of an inguinal hernia is not well established, surgery should be performed as soon as possible to ensure that the disease is cured and that the correct diagnosis of the contents is determined. In cases of a curable tumour, the lapse of time may be detrimental to the patient.
Ethics approval and consent to participate
Ethical approval for this medical study involving human subjects has respected the Helsinki ethical principles.
Consent for publication
Consent for publication has been obtained from the patient.
Competing interests
The authors declare that they have no competing interests.
Publisher's Note
Springer Nature remains neutral with regard to jurisdictional claims in published maps and institutional affiliations.
Open Access
This article is distributed under the terms of the Creative Commons Attribution 4.0 International License (
http://​creativecommons.​org/​licenses/​by/​4.​0/​
), which permits unrestricted use, distribution, and reproduction in any medium, provided you give appropriate credit to the original author(s) and the source, provide a link to the Creative Commons license, and indicate if changes were made. The Creative Commons Public Domain Dedication waiver (
http://​creativecommons.​org/​publicdomain/​zero/​1.​0/​
) applies to the data made available in this article, unless otherwise stated.