01.12.2017 | Research | Ausgabe 1/2017 Open Access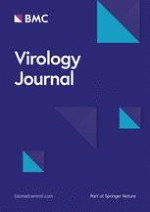 Small-size recombinant adenoviral hexon protein fragments for the production of virus-type specific antibodies
Zeitschrift:
Autoren:

Martin Pacesa, Rodinde Hendrickx, Manuela Bieri, Justin W. Flatt, Urs F. Greber, Silvio Hemmi
Wichtige Hinweise
Electronic supplementary material
The online version of this article (doi:
10.​1186/​s12985-017-0822-5
) contains supplementary material, which is available to authorized users.
Abbreviations
geq vp
Genome equivalent virus particles
MOI
Multiplicity of infection
RLU
Relative light unit signal
Background
Methods
Cells and viruses
All cell lines including the human lung carcinoma cell line A549, the human cervical carcinoma cell line HeLa Ohio, the mouse colon carcinoma CMT93 and 3T6 fibroblast cells were grown in DMEM plus 8% FCS [
15
,
54
,
55
]. The cell lines were routinely screened for the absence of mycoplasma contamination. Human HAdV-C5 wt300 was obtained from T. Shenk [
56
]. All other human prototype viruses were kindly provided by the late T. Adrian (Medizinische Hochschule Hannover, Germany) and were verified by DNA restriction analysis [
57
] and in part by hexon sequence analysis (R. Hendrickx et al., manuscript in preparation). All human wild type viruses were amplified in A549 cells and viral titers were determined by plaque assay using 911 cells as described previously [
54
]. Recombinant E1/E3-deleted HAd-B3 and HAdV-C5 vectors expressing firefly luciferase were described previously [
58
]. MAdV-1, −2 and −3 were kind gifts of K. Spindler (University of Michigan, Ann Arbor, USA), S. Compton (Yale University School of Medicine, USA) and D. Krüger (Charité Campus Mitte, Berlin Germany), respectively, and were amplified in CMT93 or 3T6 cells and titered by qPCR (R. Hendrickx et al., manuscript in preparation). The replication-competent HAdV-B3-pIX-FS2A-eGFP contains an eGFP open reading frame (ORF) genetically fused to the downstream end of the pIX gene using an autocleavage FS2A sequence ([
51
] and L. Studer manuscript in preparation). Similarly, the replication-competent MAdV-1-E1A-FS2A-GL contains a
Gaussia
luciferase (GL) ORF genetically fused to the downstream end of the E1A gene (R. Hendrickx, manuscript in preparation). The MAdV2-∆E1A-eGFP contains an E1A exon 1 deletion which was replaced by an eGFP cassette (R. Hendrickx, manuscript in preparation).
Construction of adenoviral hexon fragment expression vectors
For production of the four different hexon fragments the expression vector pGEX-6P-1 vector (GE Healthcare) was used. DNA fragments containing the hexon HVRs 1-6 were PCR-amplified using viral genomic DNA as template and inserted into the
Eco
RI and
Sal
I cloning sites of pGEX-6P-1. The oligonucleotide sequences (Microsynth AG, Switzerland) used for cloning are listed in STab 1. Hexon HVRs 1-6 protein sequences, and relative molecular sizes of the GST-hexon and final hexon fragments are summarized in Additional file
1
: Figure S1 and Additional file
2
: Table S1.
Purification of adenoviral hexon protein fragments, production of rabbit polyclonal antibodies
Five grams of cell paste corresponding to a 4-l culture of
E.coli
BL21-CodonPlus(DE3)-RIPL cells, induced at 30 °C for 4 h with 0.3 mM IPTG, were resuspended in 25 ml of buffer T + 300 mM KCl (25 mM Tris-HCl, 10% glycerol, protease inhibitors (aprotinin, leupeptin, pepstatin A, PMSF), 0.5 mM EDTA, 1 mM dithiothreitol, 0.01% Nonidet-P40, pH 7.5). The cells were then disrupted by sonication and the lysate was clarified using ultracentrifugation (45 min, 4 °C, 100,000 × g).
The lysate was incubated with 1 ml of Glutathione-Sepharose beads (GE Healthcare) equilibrated with buffer T + 300 mM KCl for 1 h at 4 °C. The beads were then spun down and washed twice with 10 ml of T + 300 mM KCl and once with T + 50 mM KCl, followed by repeated protein elution with 1.5 ml of T + 100 mM KCl containing 30 mM glutathione. Fractions were analyzed by SDS-PAGE, pooled and treated with 100 units of PreScission Protease (GE Healthcare) for 22 h at 4 °C.
The solution was diluted with buffer 1xT until conductivity reached T + 50 mM KCl and was loaded on a 1 ml Mono Q column (GE Healthcare) equilibrated in T + 50 mM KCl. The protein was eluted using an 8 ml gradient of 50 – 500 mM KCl in buffer T.
Peak fractions were pooled, and loaded on a 5 ml Q5 Bio-Scale column (Bio-Rad) equilibrated in T + 50 mM KCl following adjustment of conductivity. The protein was eluted using a 100 ml gradient of 50 – 600 mM KCl in buffer 1xT. The elution times varied between different fragments but under these conditions, all of the fragments bound to the column, with HAdV-B3 eluting between 150 and 210 mM KCl, HAdV-C5 eluting between 270 and 350 mM KCl, MAdV-1 eluting between 90 and 130 mM KCl and MAdV-2 eluting between 60 and 110 mM KCl. Peak fractions were analyzed by SDS-PAGE, pooled and briefly incubated with a small amount of Glutathione-Sepharose beads to bind residual GST. The proteins were then concentrated using a 15 ml Vivaspin Turbo 15 concentration column with 10 kDa cut-off (Sartorius Stedim Biotech). All purification steps were performed at 4 °C and the final purified proteins were stored in buffer x at −80 °C until further use.
Purified hexon HVRs 1-6 fragments were used to immunize rabbits. Antibody development was carried out at BioGenes GmbH (Berlin, Germany). The animals were intramuscularly immunized using BioGenes' adjuvant. The adjuvant was mixed 3:1 with the antigen. Final bleeds were done following four immunizations. The obtained sera were mixed with Thimerosal at 0.02% as preservative.
Neutralization assay
The in vitro neutralization assay was performed as described in [
59
]. In brief, 2.5 × 10
4
cells (3T6 for mouse viruses, A549 for human viruses) were seeded in 100 μl DMEM-FCS medium in 96 well plates and grown overnight at 37 °C. Serial five-fold dilutions or fixed dilutions of the hexon neutralizing antibody were prepared in 50 μl DMEM-FCS medium and mixed with 25 μl of either medium or increasing amounts of the hexon protein fragment. The mixes were incubated for 30 min at 37 °C. Subsequently, 25 μl of the reporter virus were added to the solutions and the mixes were incubated for another 30 min. Positive controls omitting the antibody and negative controls omitting the virus were included. The virus concentration was adjusted to a multiplicity of infection (MOI) of 5 in the case of the human viruses, whereas for MAdV-1-E1A-FS2A-GL 10
3
genome equivalent virus particles (geq vp) per cell were used. The solutions were subsequently added to the cells and incubated for 24 h at 37 °C. For measuring the luminescence signal, the medium was aspirated and replaced with 40 μl of SteadyGLO lysis / substrate (Promega). The plates were incubated for 10 min at room temperature with orbital shaking. Then, 20 μl from each well was transferred to a Greiner LumiTrac plate and analyzed using a Tecan Plate reader with luminescence unit. When using MAdV-1-E1A-FS2A-GL, the renilla luciferase assay system (Promega) was used containing the coelenterazin substrate. All tests were performed in triplicates and repeated twice. The dog HAdV-C5 neutralizing serum was kindly provided by Anja Ehrhardt [
60
,
61
]. The hyperimmune rabbit anti-HAdV-B3 was a kind gift from A. Kajon (Lovelace Respiratory Program, Albuquerque, USA).
PAGE and western blot
For analysis of viral proteins derived from infected cells, cells were lysed in NETN (10 mM Tris pH 8.0, 200 mM NaCl, 1 mM EDTA, 0.5% NP40) complemented with protease inhibitors (Mini-Complete, Roche). Analyses of cleared cell lysates and hexon fragments from bacteria were performed by polyacrylamide gel electrophoresis [
62
] followed by Coomassie Blue or PageBlue™ (Thermo Scientific) staining, or by Western blotting of electrotransfered protein to Immobilon-P membranes as described previously [
63
]. Membranes were saturated in TBS-T containing 5% dry milk and incubated with primary antibodies including the rabbit anti-hexon fragment antibodies produced here, the rabbit anti-pIIIa antibodies (kindly provided by P. Hearing, School of Medicine, Stony Brook, USA) [
64
] (both 1:1000), and the mouse monoclonal anti-actin antibody (5A7 biorbyt UK), anti-GAPDH antibody (MA5-15738, Thermo Scientific), and anti-tubulin antibody (DM1A, Sigma) (all at 1 μg/ml). Incubation with secondary antibodies included HRP-conjugated donkey anti-rabbit IgG, sheep anti-mouse IgG (GE Healthcare, both 1:4000), and sheep anti-dog IgG (GE Healthcare) for 1 h. The immunoreactivity was determined using the Luminata Crescendo Western HRP substrate (Millipore) and scored using the ImageQuant LAS 4000 imager (GE Healthcare).
Immunofluorescence imaging
1 × 104 human A549 or mouse 3T6 cells were seeded in 50 μl of DMEM-FCS medium and were incubated at 37 °C for 3 h. The cells were then infected with virus using an MOI of 1 for HAdV-B3-pIX-FS2A-eGFP, or alternatively, 100 geq vp per cell for MAdV-1-ΔE1A-eGFP and MAdV-2-ΔE1A-eGFP. The replication-competent human virus gave rise to a strong GFP signals and cells were incubated for 1 day, whereas the mouse cells were incubated for 5 days, due to the weaker GFP signals produced by these viruses. The cells were fixed using 3% PFA for 15 min at room temperature. The cells were washed three times with PBS-N3 and quenched for 10 min at room temperature with PBS-N3 + 25 mM NH4Cl. The cells were washed again three times and blocked for 1 h at room temperature in PBS-N3 + 0.5% BSA. The cells were then incubated with primary antibodies diluted 1:500 in blocking buffer for one hour at 4 °C, washed three times and incubated with secondary antibodies for 1 h at room temperature. The cells were washed and 50 μl of PBS-N3 + DAPI was added to the wells at least 30 min prior to imaging. The cells were then imaged at a 20× magnification using a ImageXpress Micro XLS system.
Immunogold-labelled electron microscopy imaging
Staining and analyses by transmission microscopy (TEM) was performed as described earlier [
65
]. In brief, 10 μl of concentrated CsCl-purified adenovirus solutions were pipetted onto glow discharged TEM mesh grids. Virus was left to adsorb for 1-2 min, excess buffer was dried using a filter paper and grids were washed four times for 1 min in 10 μl of PBS with 10% goat serum. Grids were then incubated in 10 μl of primary antibody diluted 1:50 in PBS with 1% goat serum for 30 min at room temperature. This was followed by additional washing four times for 1 min in PBS with 10% goat serum and then incubation with 10 μl of 1:50 diluted secondary colloidal 10 nm gold-conjugated antibodies for 30 min at room temperature. Grids were washed twice in PBS with 0.1% BSA, three times in PBS and twice with deionized water for 1 min each. Virus was counterstained with 3% uranyl acetate for 20-40 s and the excess staining solution was drained with filter paper. Grids were allowed to air dry and were then imaged using a TEM FEI Tecnai G2 electron microscope. The 9C12 antibody included as primary antibody was developed by Laurence Fayadat and Wiebe Olijve, and was obtained from Developmental Studies Hybridoma Bank developed under the auspices of the National Institute of Child Health and Human Development and maintained by the University of Iowa, Department of Biology, Iowa City, IA.
Results
Discussion
Conclusions
The procedure described here can be applied to generate monoclonal or polyclonal antibodies against adenoviruses that are difficult to grow in cell culture. Such antibodies can greatly speed up the process of optimizing the cultivation and purification conditions of the virus, and enhance studies of the infection cycle and serve as diagnostic tools in tissue analyses. Purified hexon fragments can be used in a variety of biochemical assays apart from immunizing animals, for instance blocking neutralization assays, pull-down assays or competition assays. The method described here is cost effective and yields milligram quantities of recombinant soluble hexon protein. It extends traditional methods, and improves adenoviral research and diagnostics.
Acknowledgements
We thank Maarit Suomalainen for careful reading of the manuscript and Anja Ehrhardt (Ludwig Maximilians University of Munich, Germany) and A. Kajon (Lovelace Respiratory Program, Albuquerque, USA) for their generous gifts of neutralizing anti-HAdV-C5 and anti-HAdV-B3 antisera, respectively and P. Hearing (School of Medicine, Stony Brook, USA) for the rabbit anti-pIIIa serum. We also thank the Functional Genomics Centre Zurich for performing mass-spectrometry analysis and the Centre for Microscopy and Image Analysis, UZH for providing assistance with electron microscopy analysis.
Funding
This work was financially supported by an Initial Training Network grant "ADVance" from the European Union supporting RH, UFG and SH (to UFG and SH and other principal investigators of ADVance, coordinated by Dr. A. Baker, University of Glasgow, United Kingdom), by SNF grant number 31003A_146286 (SH) and by the University of Zürich (UFG, SH). MB was supported by the Novartis foundation for medical-biological research (grant 16C222). The funders of this work had no impact on the design or the interpretation of the study.
Availability of data and materials
The datasets used and/or analyzed during the current study and newly generated reagents are available from the corresponding author on reasonable request.
Ethics approval and consent to participate
Not applicable.
Consent for publication
Not applicable.
Competing interests
The authors declare that they have no competing interests.
Publisher's Note
Springer Nature remains neutral with regard to jurisdictional claims in published maps and institutional affiliations.
Open Access
This article is distributed under the terms of the Creative Commons Attribution 4.0 International License (
http://​creativecommons.​org/​licenses/​by/​4.​0/​
), which permits unrestricted use, distribution, and reproduction in any medium, provided you give appropriate credit to the original author(s) and the source, provide a link to the Creative Commons license, and indicate if changes were made. The Creative Commons Public Domain Dedication waiver (
http://​creativecommons.​org/​publicdomain/​zero/​1.​0/​
) applies to the data made available in this article, unless otherwise stated.